Customized Shaft Machining VTC
VTC 100 GT
Workpiece dia., max.: 100 mm | 4 in
Workpiece length, max.: 400 mm | 15.5 in
Chuck dia., max.: 210 mm | 8.5 in
---
EMAG VTC-Machines: A Joint "Attack" on Shafts
VTC vertical turning and grinding machines from EMAG ensure fast processes when turning and grinding operations come together. More flexibility isn't available; almost the entire finishing process is carried out in the VTC vertical turning and grinding machine. Hard and soft turning, scroll-free turning, grinding and simultaneous grinding, synchronous support grinding and non-circular grinding are all possible on a single machine.
In short: VTC vertical turning and grinding machines guarantee efficient shaft production with reliable processes.
VTC 100 GT - All-Around Solutions for Shafts
The VTC 100 GT turning and grinding machine ensures fast cycles for hard turning and grinding. The tool turret completes all turning operations, while the grinding takes place at a second station. Thus, the VTC 100 GT multi-functional machine is the perfect production tool for the complete machining of cylindrical bearing seats or shoulders and grooves, for example. Machined in a single clamping, true running errors resulting from separate clamping operations are reduced.
Important to note is that the component may be changed at any time. VTC 100 GT machines can be quickly reconfigured for evolving machining tasks. Even complex combination processes can be configured extremely efficiently on the EMAG turning and grinding combination machine.
All hard machining processes on a single machine: CBN grinding, hard turning and scroll-free turning
Integrated loading and unloading: the EMAG tool turret reduces automation and peripheral costs as raw and finished part storage areas form an integral part of the machine
Complete hard machining of shafts, thus eliminating clamping errors
Ideal chip flow conditions through the vertical design
Smaller footprint due to compact, vertical construction
Short tooling and re-tooling times thanks to excellent accessibility and ease of operation
Workpiece dia., max.
100 mm
4 in
Workpiece length, max.
400 mm
15.5 in
Chuck dia., max.
210 mm
8.5 in
Workpiece dia., max.
mm
in
100
4
Workpiece length, max.
mm
in
400
15.5
Chuck dia., max.
mm
in
210
8.5
X-axis travel
mm
in
150
6
Z-axis travel
mm
in
660
26
We have the

right solution

for you!
Workpieces
The Right Manufacturing Solution for

Every Workpiece
Gear shaft (e-bikes)
Shaft machining is one of EMAG's core competencies. Our special 4-axis machines for shaft production are ideal when it comes to high-precision and highly productive machining of gear shafts. Turning,…
Rotor (e-bikes)
The rotor shaft is the central component of the electric motor and EMAG has already developed numerous solutions precisely for this important component. From turning to gear cutting to hard gear…
Steering pinion
These days, power steering systems are standard in all cars. It is the reason why the steering pinion that transfers the movement of the steering wheel to the steering system's gear shaft is produced…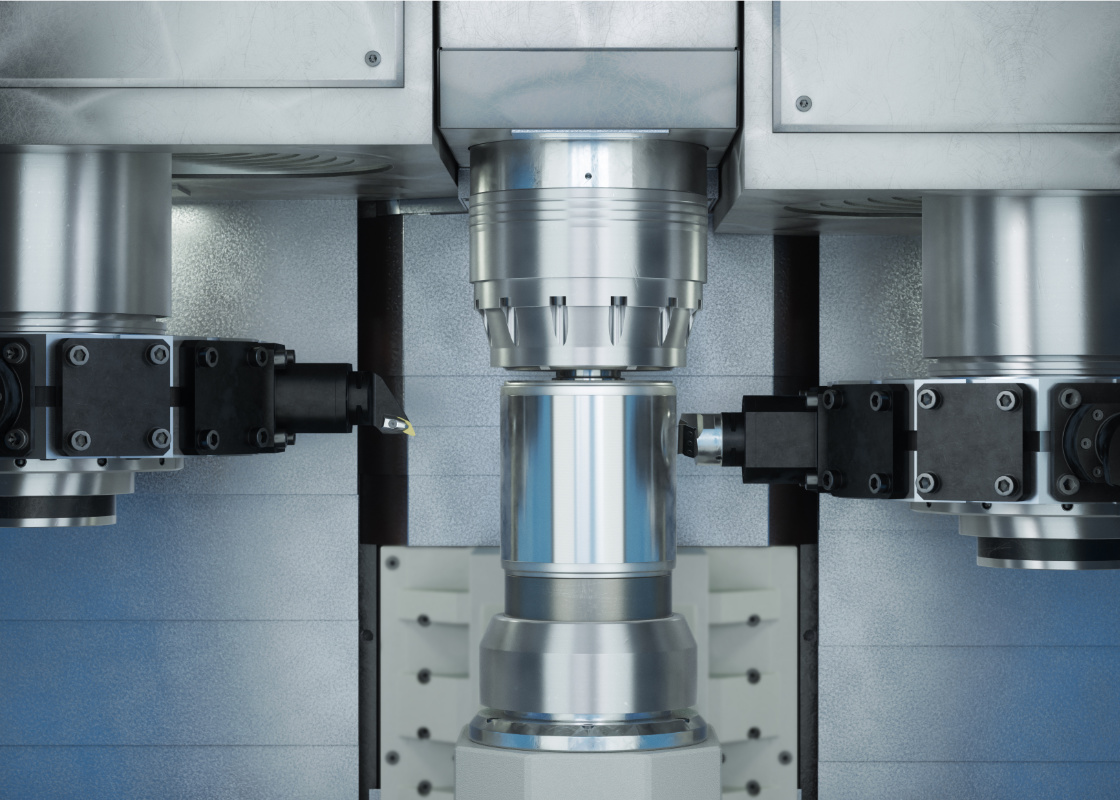 Technologies
Complex Manufacturing Systems from a Single Source

thanks to a High Range of Technologies

Grinding, besides drilling, is one of the best known chip removal production methods because it is also frequently used during daily activities.

The combination of a number of processes – such as hard turning and grinding – on a single machine, allows for the exploitation of considerable…

Scroll-free turning technology developed by EMAG offers new possibilities for fine machining. With scroll-free turning, you are able to produce…