Gear manufacturing: short machining times – exceptional output rates
Demands on the manufacture of transmission components continues to increase. Modern gearboxes are becoming smaller while the number of speed-gears increases, leading to a general increase in the quantity of all gears and toothed components required. It follows that these components must be produced at the highest precision and that calls for an ever increasing number of processes. Ideally, all of these processes should also be highly flexible, with a large variety of transmission components – such as shafts, gears, planetary gears and plate carriers – frequently being manufactured at the same site.
The technologies which successfully fulfil these demands have been developed by the gearing specialists from EMAG. With innovative machine designs they have expedited developments in the production of transmission systems.
Here are just a few examples:
The VL 2 Vertical Pick-Up Turning Machine for the fast and precise machining of gears: turning for the first and second side of the component
The VLC 200 H Vertical Hobbing Machine for the fast hobbing and deburring of gears
The VLC 100 C Vertical Chamfering Machine
The ELC 160 Laser-Welding Machine for the joining of synchronising ring and transmission gear
The Eldec Mind machine for the inductive hardening of gears
Advantages
The advantages of VL- / VT manufacturing systems in the machining of gears
Tailor-made automation solutions for every application
Efficient workpiece flow, with short travels and short idle times
Modular manufacturing concept that can be expanded and adapted at anytime
Simple to operate manufacturing system that offers short resetting and maintenance times
Integrated development and construction from a single source – from machine to process and automation
Complete-machining of gears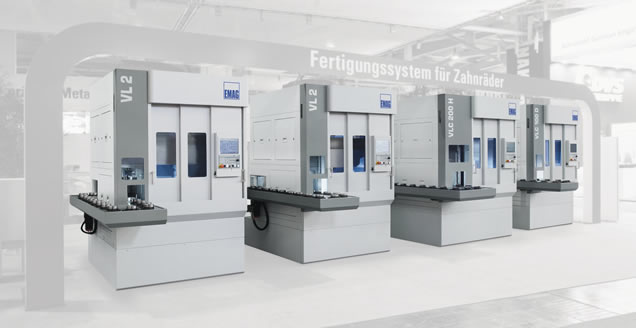 Manufacture of gears for the automotive industry and its sub-suppliers