Modular VL
VL 3 DUO
Workpiece dia., max.: 150 mm | 6 in
Workpiece length, max.: 110 mm | 4.5 in
Chuck dia., max.: 210 mm | 8.5 in
---
Modular Multi-Spindle Machine with Two Work Areas for Vertical CNC Turning
The EMAG VL 3 DUO CNC Machine, an efficient twin-spindle machine solution for chucked parts up to 150 mm in diameter, expands the product portfolio of the extremely successful VL series.
VL 3 DUO – Multi-Spindle Machines for High-Productive Manufacturing of Chucked Parts
The VL 3 DUO turning machines combine the technological developments of recent years, including pick-up automation and the TrackMotion automation system, to the modular basic design of the cnc machine – and creates an extremely efficient production system offering maximum productivity with minimal space requirements.

Like every EMAG modular turning machine, the VL 3 DUO multi-spindle machines are equipped with its own parts storage unit and a pick-up spindle for each work area.
The work areas are mirror images of each other, but each has their own working spindle. With output of up to 17.9 kW and torque up to 144 Nm, these spindles have the power for fast and precise cnc machining. Each work area features a tool turret with 12 tool positions, which can be loaded with driven tools as well as non-rotating lathe tools.
TrackMotion – Modern Parts Management in the Production Process
The EMAG TrackMotion automation system is an option on any VL 3 DUO turning lathe. This automation system consists of three central components: the track, the TransLift NC gripper moving along the track, and the storage unit for raw parts. The entire system is very compact and runs directly behind the work areas of the VL 3 DUO multi spindle machine. With the TrackMotion system, the individual workpiece is always the main focus. During each transport operation, only one workpiece is moved, which provides essential advantages for parts management. The increased mobility of the TransLift, including a Z-axis, makes it possible to use stacker pallets on the parts storage unit, allowing the stacking of raw and finished parts in a very small space. The TransLift unit also functions as the turnover station between the two machining operations. The TrackMotion automation system offers everything required for compact manufacturing on the VL 3 DUO turning machine: a spacious parts storage unit for up to 400 parts, as well as quick, and flexible parts transportation system between the separate machining stations.
Highlights of VL 3 DUO Multi-Spindle Machines:
Two separate work areas for OP 10 and OP 20. Each work area is equipped with a high-performance pick-up spindle and a turret with up to 12 tool positions.
The TrackMotion automation system doesn't just rapidly transport parts between the parts storage unit and the work areas, but also flips the parts over between OP 10 and OP 20
The compact layout ensures maximum productivity in a very small footprint. The machine design also allows for easy access to all work areas, which minimizes set up times.
EDNA IOT-READY EX-WORKS: Get started with data-optimized production with VL series
Using data analysis, unnecessary downtimes – due to component wear or, in the worst case, due to the failure of a machine – can be reduced or even avoided entirely. Productivity increases of over 10% are the rule here. To make entering the world of data-optimized production as easy as possible for our customers, all the machines of the VL Series now come standard in an IoT-ready state. This means that data analysis on the machines can be started virtually immediately.
Compact design of multi-spindle machine
Ideal for high-volume production
OP 10 and OP 20 on a multi-spindle machine
12-post tool turret by EMAG
Easy implementation of production line systems with other EMAG machines
Fully compatible with TrackMotion automation system
Ideal for gear parts production
Compact gearwheel production in combination with VL 4 H and VLC 200 GT
Workpiece dia., max.
150 mm
6 in
Workpiece length, max.
110 mm
4.5 in
Chuck dia., max.
210 mm
8.5 in
Workpiece dia., max.
mm
in
150
6
Workpiece length, max.
mm
in
110
4.5
Chuck dia., max.
mm
in
210
8.5
X-axis travel
mm
in
505
20
Y-axis travel (optional)
mm
in
± 30
± 1
Z-axis travel
mm
in
250
10
Main spindle: Power rating at 40 % / 100 % duty cycle
kW (hp)
17.9 / 15.5 (24/21)
Main spindle: Torque at 40 % / 100 % duty cycle
Nm
ft-lb
144 / 98
106 / 72.5
Main spindle: Speed, max.
rpm
5,000
We have the

right solution

for you!
Manufacturing lines
Complete

Manufacturing Lines

or

Automation Systems

from EMAG
Bin Picking Automation
Bin picking, or "reaching into the box," is a technology in which a robotic arm uses a 3D sensor system (3D camera, scanner, ...) to remove workpieces in a chaotic position from a mesh box or similar.…
TrackMotion
With the TrackMotion automation system, a "TransLift" unit runs through the machines on a rail system (track). Functions of the TransLift include picking up and placing parts with different heights,…
Workpieces
The Right Manufacturing Solution for

Every Workpiece
Gear
Machining from raw blank to finished gear– a process that used to take several departments within a shop using multiple experienced operators. Now this process can be done with a pair of digitally…
Gear wheels (e-bikes)
Regardless of whether they are made of plastic or metal, EMAG solutions can be used to manufacture a wide variety of gear wheels. Thanks to the wide range of technologies available at EMAG, we can…
Sprocket (Manufacturing System)
With the vertical pick-up turning centers of VL-Series and a VL 4 H vertical hobbing machine, EMAG offers the ideal manufacturing systems for the complete machining of sprockets. An EMAG TrackMotion…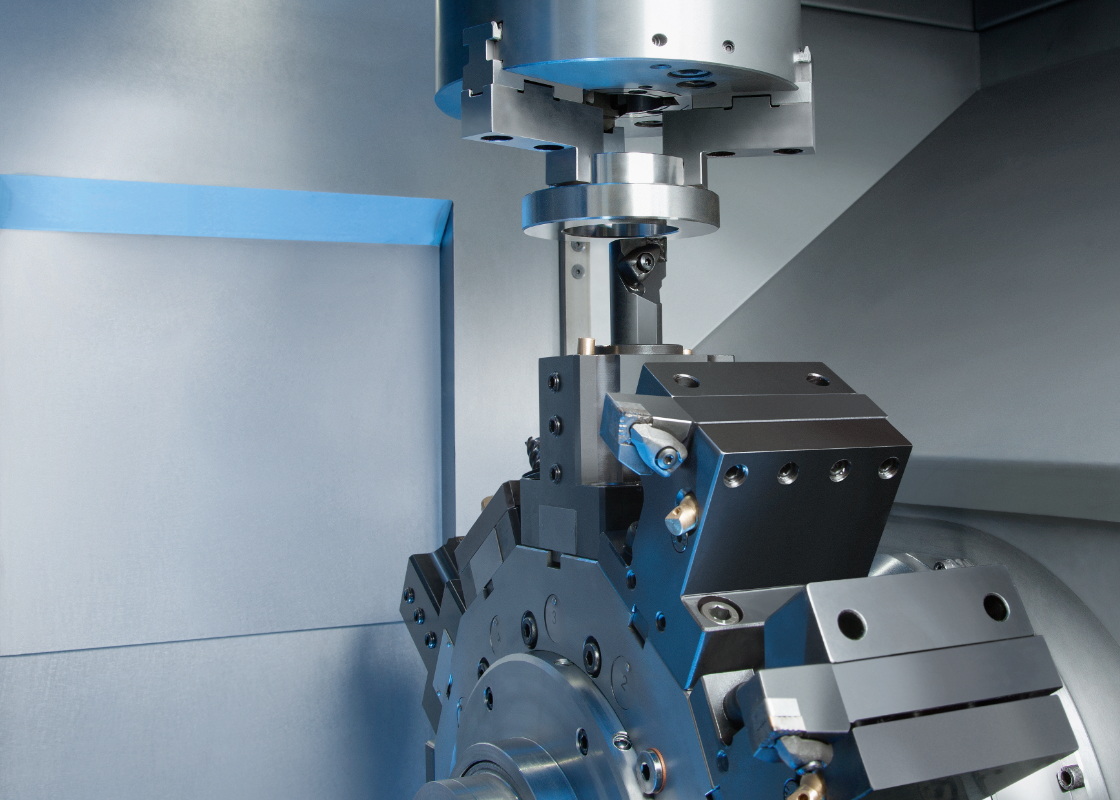 Technologies
Complex Manufacturing Systems from a Single Source

thanks to a High Range of Technologies

Vertical turning is a machining process for metal components. EMAG was one of the first machine tool manufacturers to use the vertical turning process…