Multi-Spindle Automatics
VSC 160 TWIN
Workpiece dia., max.: 130 mm | 5 in
Workpiece length, max.: 80 mm | 3 in
Chuck dia., max.: 160 mm | 6.5 in
---
Multi-Spindle Machines – VSC 160 TWIN
The VSC 160 TWIN automatic lathes are high-performance, high-precision vertical multi-spindle machines for mass production, simultaneously machining two workpieces. The VSC 160 TWIN series of automatic lathes combine high-yield production with a small footprint.
EMAG VSC 160 TWIN multi-spindle machines ensure workpiece diameter and length can be corrected for each spindle individually – a requirement for achieving the kind of precision demanded by today's production environment.
VSC 160 TWIN Automatic Lathes – Twice the Components from the Same Footprint
The TWIN-type automatic lathes are used to simultaneously machine large batches of workpiece pairs with identical operating cycles on a minimum footprint. A single machining area features two work spindles and the overhead slides of these automatic lathes are separate entities. Both slides and their spindles feature separate X- and Z-axis drives and separate measuring systems with linear scales in all axes.
Every machine is a manufacturing cell that utilizes the pick-up spindle to load itself
Extremely short loading and unloading times
Multi-functional production center: turning, drilling, milling, grinding, gear cutting, laser application and other processes
The workpiece travels while the tooling systems remain stationary offering ideal chip flow conditions, as the tools are located below the workpiece (also ideal for dry machining)
The hydro-static bearings of the work spindle in Z-axis guarantee outstanding component quality and an extended tool life for soft and hard machining
All machine assemblies with a bearing on accuracy are fluid-cooled
Safe, no-wear, maintenance-free machining area envelope
Workpiece dia., max.
130 mm
5 in
Workpiece length, max.
80 mm
3 in
Chuck dia., max.
160 mm
6.5 in
Workpiece dia., max.
mm
in
130
5
Workpiece length, max.
mm
in
80
3
Chuck dia., max.
mm
in
160
6.5
Swing diameter
mm
in
180
7
Z-axis travel
mm
in
160
6.5
We have the

right solution

for you!
Manufacturing lines
Complete

Manufacturing Lines

or

Automation Systems

from EMAG
Bin Picking Automation
Bin picking, or "reaching into the box," is a technology in which a robotic arm uses a 3D sensor system (3D camera, scanner, ...) to remove workpieces in a chaotic position from a mesh box or similar.…
SCS Stacking Cell
Highly productive production in a confined space – this is what is promised by the new stacking cells of the SCS series in combination with the vertical turning center from EMAG.

Whether for the…
TrackMotion
With the TrackMotion automation system, a "TransLift" unit runs through the machines on a rail system (track). Functions of the TransLift include picking up and placing parts with different heights,…
Workpieces
The Right Manufacturing Solution for

Every Workpiece
CV Joints
The components of CV joints, such as outer race, articulated cages and inner races demand a lot out of machine tools. EMAG offers a wide range of manufacturing solutions for efficient production.
Injector body
For the production of injector bodies, EMAG offers turning centers for soft machining by chipping, induction hardening machines by eldec, and electro-chemical machining centers for deburring or inner…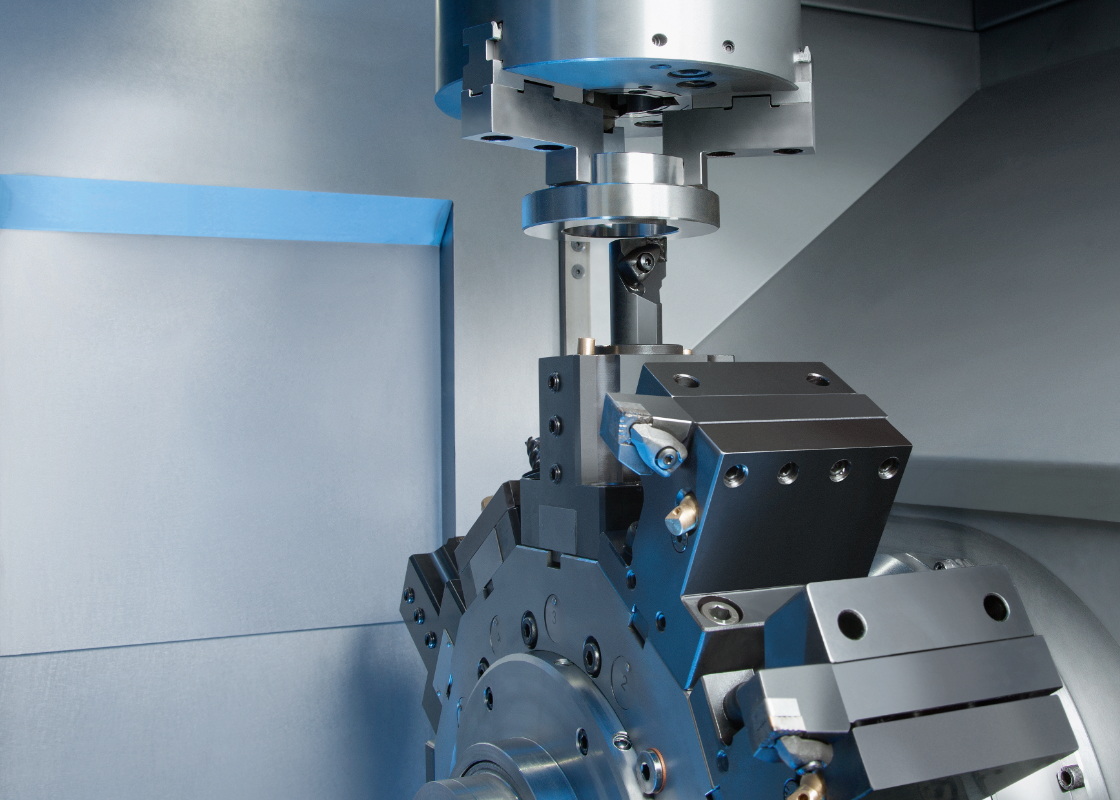 Technologies
Complex Manufacturing Systems from a Single Source

thanks to a High Range of Technologies

Vertical turning is a machining process for metal components. EMAG was one of the first machine tool manufacturers to use the vertical turning process…