Multi-Spindle Automatics
VSC DUO
Workpiece dia., max.: 340 mm | 13.5 in
Workpiece length, max.: 160 mm | 6.5 in
Chuck dia., max.: 200 / 400 mm | 8 / 15.5 in
---
Multi-Spindle Machines – VSC DUO
The DUO multi-spindle machine offers a cost effective solution for machining in two operations. Featuring two separate machining areas allows the two overhead slides to be programmed independently. Each machining area has an EMAG disc-type turret mounted in the end wall, which can also be programmed independently.
All DUO multi-spindle machines have a MINERALIT® polymer concrete machine base, the damping properties of which are 8 times those of cast iron. Simple, flexible workpiece handling on all VSC series machines, including the multi-spindle machines, includes loading and unloading from either the right or the left.
VSC DUO Multi-Spindle Machine for Medium and Large Batch Production
VSC DUO multi-spindle machines have the smallest footprint for the machining of components in first and second operation. The multi-spindle lathes can be used for identical or different machining cycles, as they feature two separate machining areas with independently programmable overhead slides and turrets to streamline sequential operations (OP 10 + OP 20).
Both turrets on these multi-spindle machines accommodate not only stationary tools but also driven drilling and milling tools. This allows for either identical or different operations to be carried out on the two work spindles.
Safe, no-wear, maintenance-free machining area envelope
All machine assemblies with a bearing on accuracy are fluid-cooled
The hydro-static bearings of the work spindle in Z-axis guarantee outstanding component quality and an extended tool life for soft and hard machining
The workpiece travels as the tooling systems remain stationary, offering ideal chip flow conditions with the tools are located below the workpiece (also ideal for dry machining)
Multi-functional production center: turning, drilling, milling, grinding, gear cutting, laser application and other processes
Extremely short loading and unloading times
Every machine is a manufacturing cell that utilizes the pick-up spindle to load itself
Workpiece dia., max.
340 mm
13.5 in
Workpiece length, max.
160 mm
6.5 in
Chuck dia., max.
200 / 400 mm
8 / 15.5 in
Workpiece dia., max.
mm
in
340
13.5
Workpiece length, max.
mm
in
160
6.5
Chuck dia., max.
mm
in
200 / 400
8 / 15.5
Swing diameter
mm
in
260 / 420
10 / 16.5
X-axis travel
mm
in
850
33.5
Z-axis travel
mm
in
200 / 315
8 / 12.5
We have the

right solution

for you!
Workpieces
The Right Manufacturing Solution for

Every Workpiece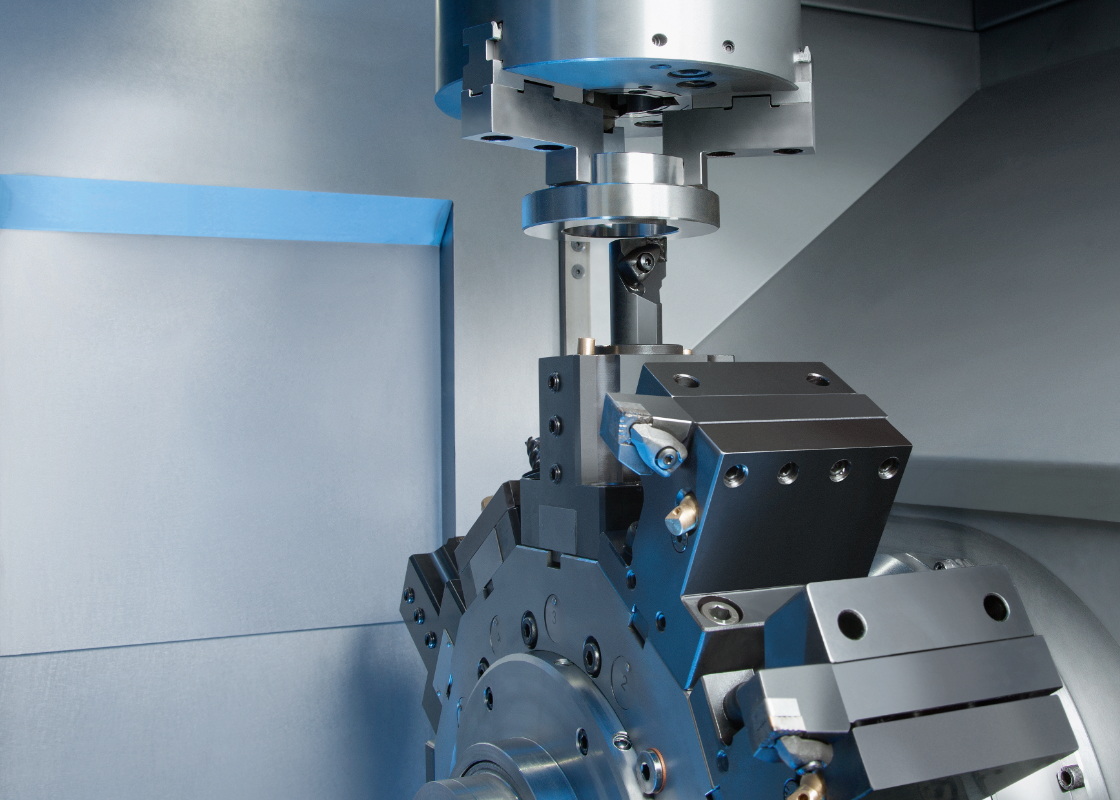 Technologies
Complex Manufacturing Systems from a Single Source

thanks to a High Range of Technologies

Vertical turning is a machining process for metal components. EMAG was one of the first machine tool manufacturers to use the vertical turning process…