Vertical Turning and Grinding Centers, Chucked Components
VSC DS / DDS
Chuck dia., max.: 250 / 400 mm | 10 / 15.5 in
Swing diameter: 250 / 420 mm | 10 / 16.5 in
X-axis travel: 685 / 850 mm | 27 / 33.5 in
---
Vertical turning and grinding center: Hard turning, scroll-free turning, grinding.
Vertical turning and grinding – a solution that has it all. The combined turning and grinding centers VSC 250 DS, VSC 400 DS and VSC 400 DDS combine the advantages of vertical hard turning with the advantages of grinding, on a single machine, in a single set-up.
Depending on production requirements the turning and grinding center VSC DS can be equipped with turning, milling, drilling, grinding and even honing or hardening modules. It could also use combinations of them, of course. For each requirement the best possible technology is available.
Complete production processes with the turning and grinding center VSC DS
The turning and grinding center VSC DS is specifically designed for the low-cost, process capable, precision machining of medium to large component batches. Typical examples of such workpieces are: gearwheels, chain wheels, sliding sleeves, parts for CVTs, link pins, conrods, rocker arms, bearing rings and piston rings.
In each case, workpiece and quality requirements decide which of the available machining processes is the best and the most economical. The advantage for the customer is in the flexibility that allows them to select the best technology for every application: hard turning, scroll-free turning and grinding, all on a single machine.
As on all machines of the VSC series, the pick-up principle ensures that the EMAG REINECKER VSC DS turning and grinding center loads itself. There is consequently no need for cost-intensive, space-devouring gantry loaders or other loading devices that necessitate time consuming resetting work.
Vertical hard turning and finish-grinding in a single setup, on a single machine
All workpiece sections that can be turned with the required process reliability are hard finish-turned and only ground (after hard pre-turning) where component quality and process reliability demand
A better quality component and increased productivity levels, because the workpiece is machined in a single setup, and the hard turning process leaves a small amount of material to be ground away in the subsequent operation
The grinding wheel subjected to less wear because it does not need to remove as much stock. This reduces the frequency of dressing operations and offers advantages in cycle time
The grinding operation has to remove only a small amount of material, the grinding wheel specification can be chosen to reflect the desired finish-machining quality
Back faces are difficult to reach with grinding wheels; however, this problem is solved by employing hard turning operations
Chuck dia., max.
250 / 400 mm
10 / 15.5 in
Swing diameter
250 / 420 mm
10 / 16.5 in
X-axis travel
685 / 850 mm
27 / 33.5 in
Chuck dia., max.
mm
in
250 / 400
10 / 15.5
Swing diameter
mm
in
250 / 420
10 / 16.5
X-axis travel
mm
in
685 / 850
27 / 33.5
Z-axis travel
mm
in
200 / 315
8 / 12.5
Y-axis travel (optional)
mm
in
315
12.5
We have the

right solution

for you!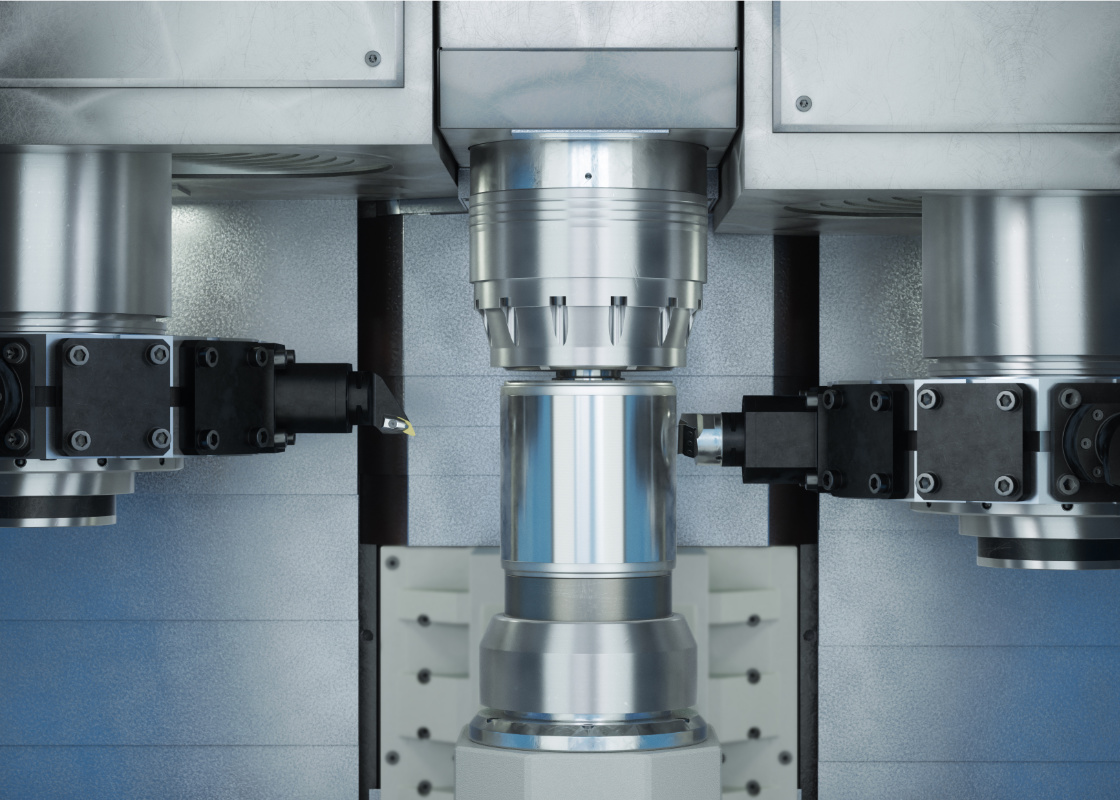 Technologies
Complex Manufacturing Systems from a Single Source

thanks to a High Range of Technologies

Scroll-free turning technology developed by EMAG offers new possibilities for fine machining. With scroll-free turning, you are able to produce…