Universal Cylindrical Grinding Machines
WPG 7
Workpiece dia., max.: 200 mm | 8 in
Workpiece length, max.: 380 mm | 15 in
Center height: 100 mm | 4 in
---
WPG 7 – Compact External Cylindrical Grinding Machine for Workpieces up to a Length of 250 mm
Highly productive, flexible, and with an extremely small footprint – the new WPG 7 CNC external cylindrical grinding machine provides boosted performance in the machining of small and medium-sized workpieces.
The Solution for Perfect Grinding Processes
With the WPG 7 from EMAG Weiss, the machining of workpieces up to a length of 250 mm and a maximum diameter of 200 mm is efficient every step of the way.
This is thanks to a rigid machine concept, very dynamic axes, a powerful grinding wheel drive, and a very small footprint. All in all, the WPG 7 only needs around four square meters' space. The robust machine is also highly accessible and can quickly be re-tooled for changing machining tasks.
High-end CNC control
At CNC-Technik Weiss GmbH, we have always put our trust in the expertise of Eckelmann AG for our CNC control solutions.
Even before 1980, Eckelmann started to develop a CNC control specifically for cylindrical grinding. Today, these control units offer functions tailored specifically for grinding, and are still far ahead of the products of other controller manufacturers. Currently, we use the Eckelmann ENC66 controller in all CNC machines.
Minimal space requirements
Small "hook machine" with a 1,800 x 2,400 mm footprint – incl. electrical cabinet and peripheral devices
Maximum flexibility
Adjustable grinding wheel circumferential speed up to 50 m/s, maximum grinding wheel size of 500 x 80 mm, easy cycle programming, tailstock with MK3 fine adjuster
Variable configuration
Available as 0° straight plunge or 30° angular plunge machine, workpiece headstock with dead or live center, MK4/MK5 or W20/W25
Optional features
Available features include in-process gauging control (diameter), passive longitudinal positioning control, an automatic balancing system, and both GAP and crash control.
Workpiece dia., max.
200 mm
8 in
Workpiece length, max.
380 mm
15 in
Center height
100 mm
4 in
Workpiece dia., max.
mm
in
200
8
Workpiece length, max.
mm
in
380
15
Center height
mm
in
100
4
Distance between centers
mm
in
280
11
Axis (Z) Longitudinal travel
mm
in
390
15.5
Axis (Z) Feedrate
m/min
ipm
15
590.5
Axis (Z) Table adjustment
degrees
8
Axis (X) Transverse travel
mm
in
190
7.5
Axis (X) Feedrate
m/min
ipm
10
394
Grinding wheel dia.
mm
in
400 / 500
15.5 / 19.5
Grinding wheel width, max.
mm
in
80
3
Grinding wheel bore
mm
in
127 / 203
5 / 8
Grinding wheel circumferential speed
m/s
50
Workpiece headstock - Locating cone
W20 (W25 or MK4, MK 5)
Workpiece headstock - Speed
m/s
0 - 2.000
We have the

right solution

for you!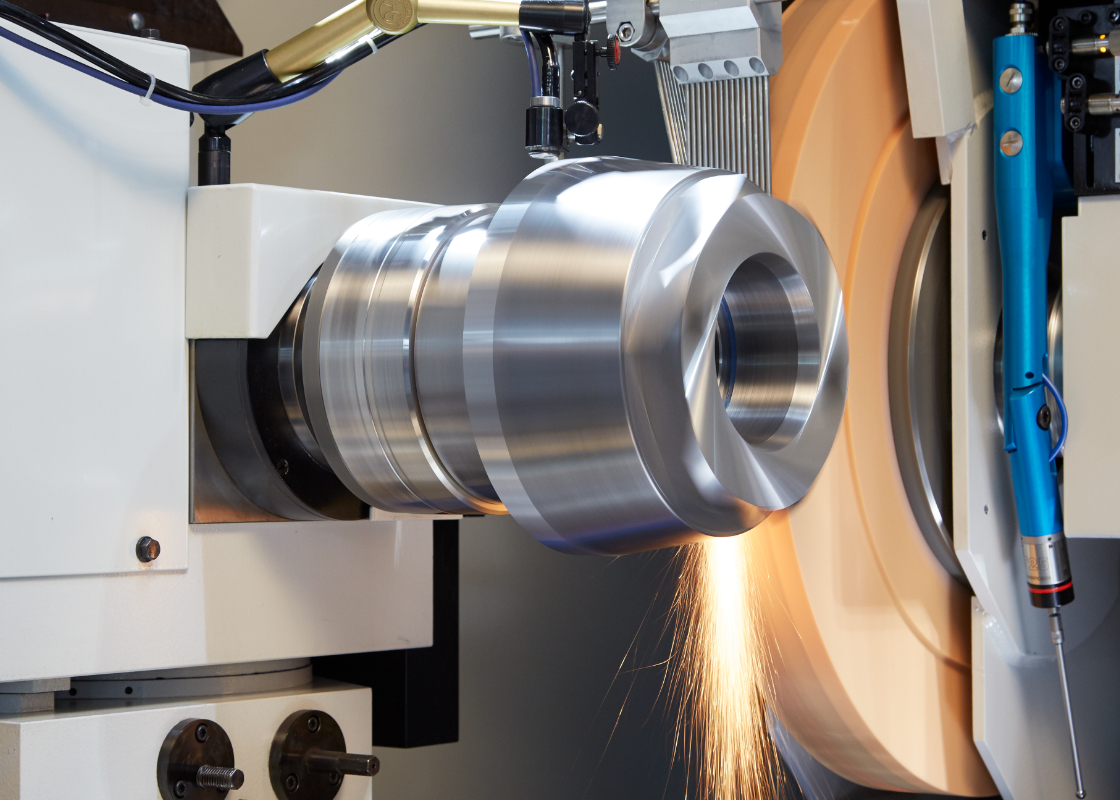 Technologies
Complex Manufacturing Systems from a Single Source

thanks to a High Range of Technologies

Universal cylindrical grinding generally refers to the cylindrical grinding process applied to the outside or inside diameter of a part. For external…