Universal Cylindrical Grinding Machines
W 11 CNC
Workpiece dia., max.: 500 mm | 19.5 in
Workpiece length, max.: 1,500 mm | 59 in
Center height: 180 / 320 mm | 7 / 12.5 in
---
W 11 CNC External-Internal Face Cylindrical Grinding Machine
When a high-end CNC machine is too much and a conventional machine is too little, the solution is: EMAG WEISS W 11 CNC CYLINDRICAL GRINDING MACHINE.
With the W 11 CNC, you can produce workpieces with a maximum diameter of 350 mm (14 in) and a length of 2,000 mm (79 in).
W 11 CNC Cylindrical Grinding Machine - Perfect for One-Offs, Prototypes and Small Batch Production
The W 11 CNC cylindrical grinding machine is perfect for one-offs and prototype production. This cylindrical grinding machine is also used for small batch production with a few diameters, for match grinding and sample production in the field of training and maintenance.
The W 11 CNC cylindrical grinding machine includes the following in its design:
Hydraulic-free
Axle drives with servomotor and ball screw
Technology to input grinding parameters via touch screen
Automatic parallel dressing with compensation
Automatic releasing
W 11 CNC - Manual CNC-Supported External-Internal Cylindrical Grinding Machine
The control system of the W 11 is a modern, fast, grinding-oriented control system with a Windows interface, as well as, a USB and network interface for easy program management. Programming is performed using a dialog interface or DIN ISO programming. All common grinding cycles are included. Options include a DXF converter, geometry editor and special grinding cycles.
The CNC control can be easily used for automatic dressing, grinding of multiple diameters, saving of grinding sequences, contour dressing and taper grinding in rail operation.
Despite a CNC control, manual cylindrical grinding is still possible.
Workpiece Headstock, Tailstock and Grinding Headstock
The spindle socket (MK4/MK5/MK6) has a precision spindle bearing with a concentricity of less than 0.5 µm. The speed is infinitely variable from 1 - 650 rpm, 2,000 rpm is also possible. Additional options include:
Vertical center
Special clamping devices, central clamping
The tailstock (MK4) can be operated manually and pneumatically with a foot switch. The quill cone (MK4) allows for a loading weight between centers of up to 250 kg (551 lbs). The quill stroke is 45 mm (2 in). Option: manual cylinder correction
The grinding headstock has a precision spindle bearing / angular contact ball bearing or hydrodynamic plain bearing.
The following grinding wheel dimensions are possible:
Ø 400/500 mm (16/20 in), width 10 - 120 mm (0.4 – 5 in)
Drive power 4.5 - 7.5 kW (6 – 64 hp)
A B-axis (direct-driven torque axis) is available as an option for infinitely variable swivelling/positioning of the grinding headstock. Additional options include:
Transformation of the center-of-rotation coordinates of the grinding wheel
SUG
CAP/crash control
Extremely versatile
Easy to set-up
User-friendly
Quick clamps on the assemblies for retooling
Very precise feed and dimensional accuracy within 0.001 mm
Easy operator accessibility
Workpiece dia., max.
500 mm
19.5 in
Workpiece length, max.
1,500 mm
59 in
Center height
180 / 320 mm
7 / 12.5 in
Workpiece dia., max.
mm
in
500
19.5
Workpiece length, max.
mm
in
1,500
59
Center height
mm
in
180 / 320
7 / 12.5
Grinding Ø external
mm
in
1 / 500
0 / 19.5
max. workpiece weight floating MK4
kg
lb
100 / 250
220.5 / 551
max. workpiece weight between centres
kg
lb
250 / 450
551 / 992
We have the

right solution

for you!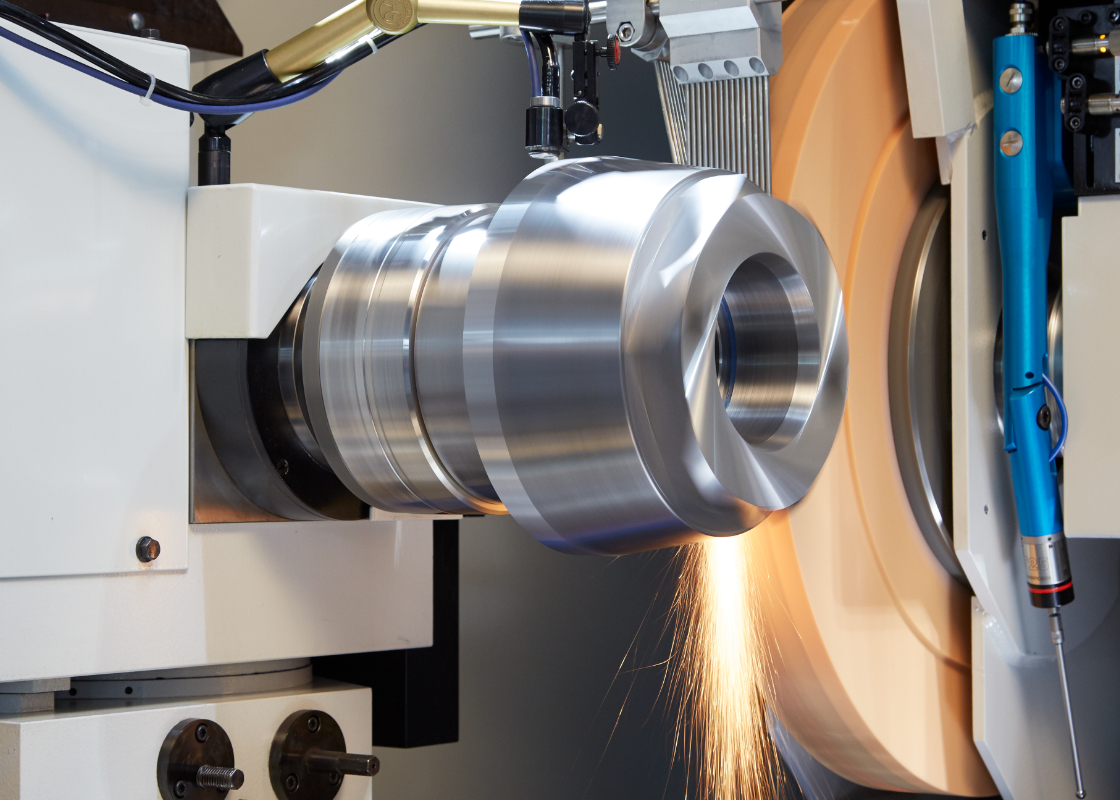 Technologies
Complex Manufacturing Systems from a Single Source

thanks to a High Range of Technologies

Finding the right balance between flexibility and productivity is challenge of designing machines for cylindrical grinding.

This demand is met with…

Universal cylindrical grinding generally refers to the cylindrical grinding process applied to the outside or inside diameter of a part. For external…