Camshaft Grinding Machines
SN 204 / SN 208
Workpiece dia., max.: 380 mm | 15 in
Workpiece length, max.: 600 / 950 mm | 23.5 / 37.5 in
X-axis travel: 380 mm | 15 in
---
High performance grinding of camshafts and external contours
Those who want to have a say in the world market for camshafts put their faith in the system solutions of complete process streams from the EMAG Group.
As the specialist in Camshaft Grinders EMAG KOPP offers the optimal manufacturing solution with their highly flexible series of SN machines, whether the camshafts are for motor cycles, passenger cars, trucks or for heavy-duty diesel engines.
EMAG Camshaft Grinder SN 204 / SN 208
An X-axis equipped with hydro-static ball screw drive and hydro-static guide way guarantees the most accurate grinding result. The compound table design reduces the size of the footprint of the camshaft grinder. The machine is able to grind cams with cylindrical or conical tracks, cams with concave radii or cams with chamfers.
Typical applications for the camshaft grinders include camshafts for passenger car and motorcycle engines, camshafts for injection pumps, eccentric shafts, external polygons and external cams for textile and packaging machines.
The modular system, for the variable settings of the camshaft grinders, includes different sizes of grinding spindles, post- and in-process measuring devices, dressing attachments for CBN and corundum wheels, touch-recognition during grinding and dressing, workholding units and chucks of different sizes. The equipment offered with this machine is complemented by environmentally friendly coolant processing plants and exhaust systems for the camshaft grinders. Workpieces are loaded and unloaded by an automatic workhandling system that includes an internal or external gantry loader or, alternatively, by a robot.
Advantages
SN 204 / SN 208
Identical basic machines for a variety of manufacturing tasks
Standardized operation and part programming with the state-of-the-art EMAG operating and programming system, resulting in a shorter learning curve, flexible staff deployment and the simplification of multiple-machine operations
All modern grinding technologies can be realized
The machines can be equipped with one, two or more grinding wheels for external out-of-round and/or cylindrical grinding
The compound table design reduces the footprint
Hydrostatic ball screw and hydrostatic guideway in X-axis
A twin-slide variant of the machine is available
Workpiece dia., max.
380 mm
15 in
Workpiece length, max.
600 / 950 mm
23.5 / 37.5 in
X-axis travel
380 mm
15 in
Workpiece dia., max.
mm
in
380
15
Workpiece length, max.
mm
in
600 / 950
23.5 / 37.5
X-axis travel
mm
in
380
15
Z-axis travel
mm
in
1,000 / 1,600
39.5 / 63
We have the

right solution

for you!
Workpieces
The Right Manufacturing Solution for

Every Workpiece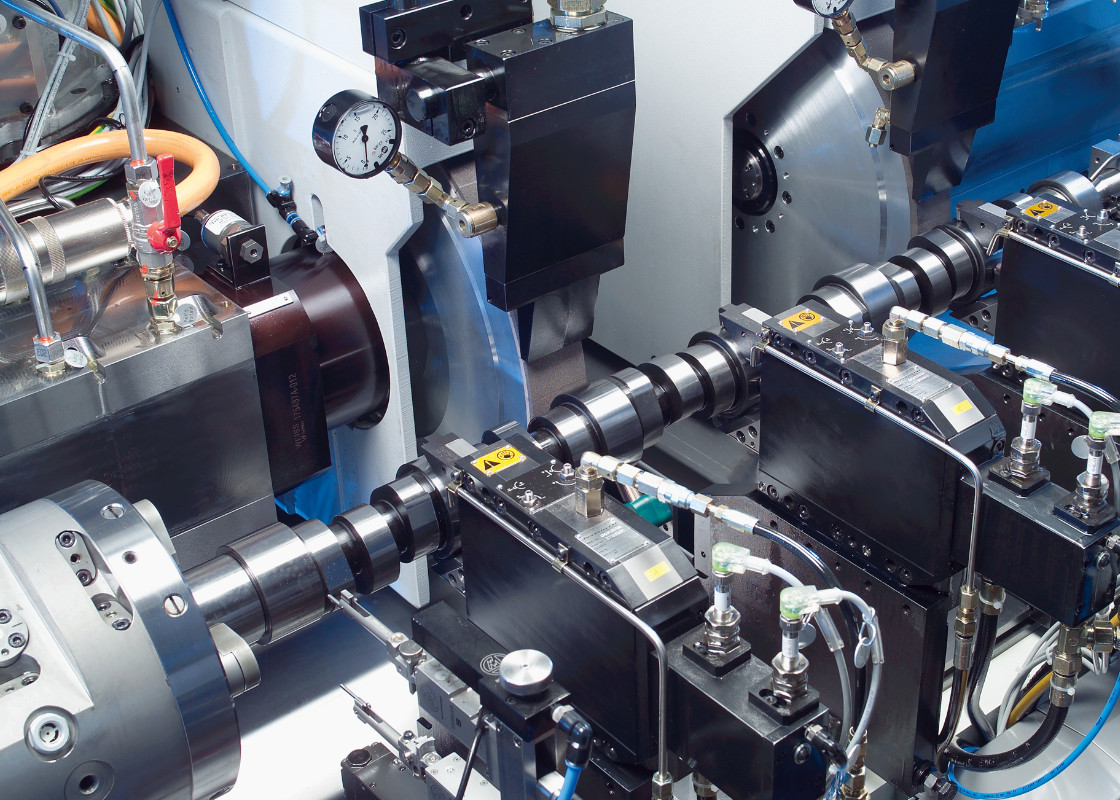 Technologies
Complex Manufacturing Systems from a Single Source

thanks to a High Range of Technologies

Grinding, besides drilling, is one of the best known chip removal production methods because it is also frequently used during daily activities.

Out-of-round grinding with CBN grinding technology allows high-precision machining of cams, camshafts, pump rings and other components with…