Production VSC
VSC 400
Workpiece dia., max.: 340 mm | 13.5 in
Workpiece length, max.: 160 mm | 6.5 in
Chuck dia., max.: 400 mm | 15.5 in
---
Lathe for the Automated Machining of Chucked Components
The VSC 400 turning machine with vertical turning technology can process round parts with a chuck diameter up to 315 / 400 mm.
The advantages of the solid vertical construction of the VSC 400 lathe become apparent in the production of gears, chain wheels, couplings, components for CVTs, hinge pins, conrods, rocker arms, bearing rings or piston rings. The vertical layout of the VSC 400 lathe offers highly favorable chip flow conditions that make even dry machining an uncomplicated process.
All machine modules, including the machine base of MINERALIT® polymer concrete and its integrated tooling systems, are a rigid, vibration-resistant design.
Machining + Automation + Measuring: The VSC 400 Vertical Pick-Up Lathe Equipped to Suit Production Requirements
Vertical turning, hard turning, drilling/boring, grinding, milling, gear cutting, honing – all on a single lathe. With a large selection of available technology modules, the VSC 400 lathe can be equipped to suit individual machining requirements with impressive productivity and exceptional precision in medium and large batch production.
A variety of linking and automation components allow for these machine to be easily integrated into production lines.
Every machine is a production cell that utilizes the pick-up spindle to load itself
Short travel distances and machining times
Multifunctional production tool: turning, drilling, milling, grinding and other processes
The workpiece travels while the tooling systems remain stationary
Ideal chip flow conditions since the tools are located below the workpiece
The work spindle with a hydro-static guideway in Z-axis (optional) ensures outstanding component quality and a high tool life for soft and hard machining operations
All accuracy defining machine assemblies are fluid-cooled
Safe, wear resistant, maintenance-free machining area envelope
Dry machining is easy with the VSC as the work spindle and tools are ideally positioned for the process
Workpiece dia., max.
340 mm
13.5 in
Workpiece length, max.
160 mm
6.5 in
Chuck dia., max.
400 mm
15.5 in
Workpiece dia., max.
mm
in
340
13.5
Workpiece length, max.
mm
in
160
6.5
Chuck dia., max.
mm
in
400
15.5
Swing diameter
mm
in
420
16.5
X-axis travel
mm
in
850
33.5
Z-axis travel
mm
in
315
12.5
We have the

right solution

for you!
Manufacturing lines
Complete

Manufacturing Lines

or

Automation Systems

from EMAG
Bin Picking Automation
Bin picking, or "reaching into the box," is a technology in which a robotic arm uses a 3D sensor system (3D camera, scanner, ...) to remove workpieces in a chaotic position from a mesh box or similar.…
SCS Stacking Cell
Highly productive production in a confined space – this is what is promised by the new stacking cells of the SCS series in combination with the vertical turning center from EMAG.

Whether for the…
TrackMotion
With the TrackMotion automation system, a "TransLift" unit runs through the machines on a rail system (track). Functions of the TransLift include picking up and placing parts with different heights,…
Workpieces
The Right Manufacturing Solution for

Every Workpiece
CV Joints
The components of CV joints, such as outer race, articulated cages and inner races demand a lot out of machine tools. EMAG offers a wide range of manufacturing solutions for efficient production.
Outer Race
Outer races are difficult to machine with a traditional machining process. EMAG turning centers and ball track milling machines are customized to the specific processing task required to produce outer…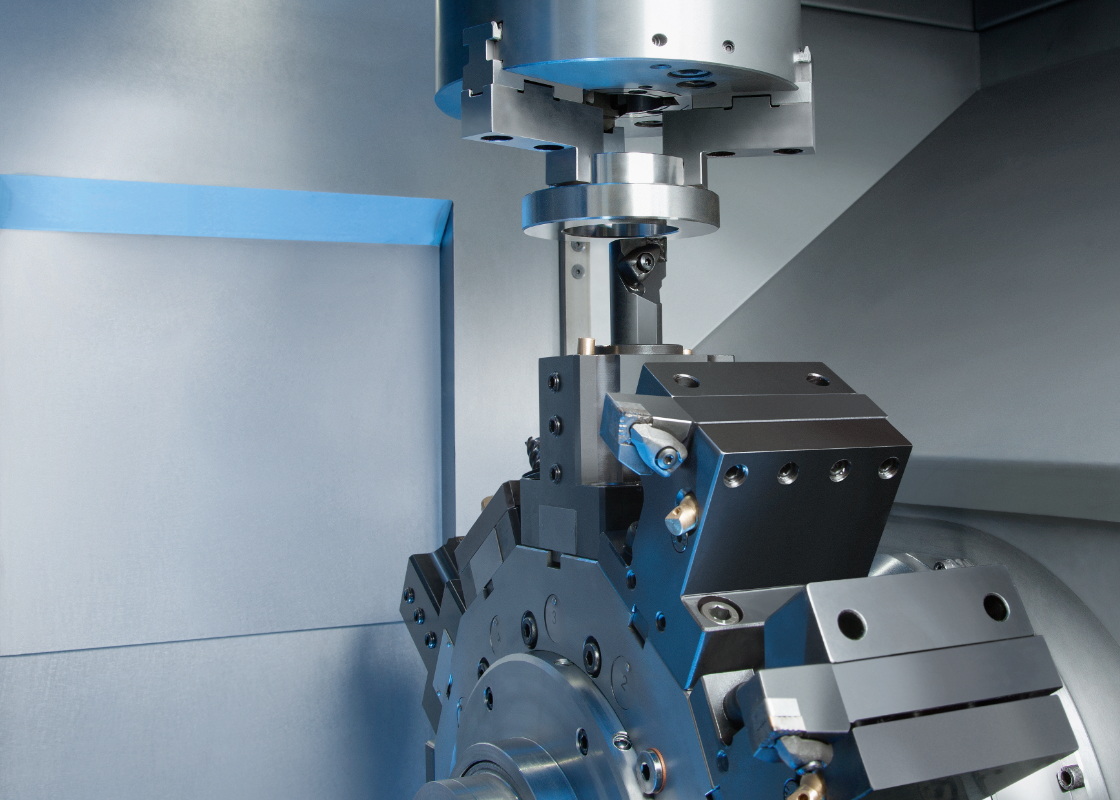 Technologies
Complex Manufacturing Systems from a Single Source

thanks to a High Range of Technologies

Drilling is one of the oldest production methods and has been used by humans since the Stone Age.

Scroll-free turning technology developed by EMAG offers new possibilities for fine machining. With scroll-free turning, you are able to produce…

Vertical turning is a machining process for metal components. EMAG was one of the first machine tool manufacturers to use the vertical turning process…