Horizontal Gear Hobbing Machines
K 160
Module range: mm 0.3 - 2.5
Workpiece dia., max.: 100 mm | 4 in
Workpiece length, max.: 1,000 mm | 39.5 in
---
Your Gear Hobbing Solution!
The K 160 gear hobbing machine combines an innovative design principle with state-of-the-art technology, and the wealth of experience gained during generations of gear cutting.
Whether used for dry or wet machining, customized automation equipment and an extensive technology package make the K 160 gear hobbing machine an optimal high-speed hobbing center for gear modules up to 2.5.
KOEPFER K 160 Horizontal Gear Hobbing Machine
The K 160 gear hobbing machine is equipped with the latest generation of eight-axis control systems, and offers a high hobbing head and work spindle speeds. This makes it possible to use high cutting speeds, even on those pinions and shafts with the fewest number of teeth. The base of the gear hobbing machine is made out of MINERALIT® polymer concrete in a slant bed design.
This machine base, made of MINERALIT® polymer concrete, provides excellent vibration dampening properties and is torsion and bending resistant. The slant bed design is ideal for chip and coolant removal. These factors result in better surface quality and longer tool service lives.
Throughput and idle times are governed by cutting speeds, the workpiece loading process and ease of setting - all economically decisive factors in the machining of large batch sizes. For the machining of pinions and shafts with the smallest number of teeth, or just gear hobbing, the K 160 is the world's fastest gear hobber with the lowest chip-to-chip times. Eight to ten years ago, the machining times for armature shafts, for example, were approximately 20 to 25 seconds. The K 160 gear hobbing machine has, for the past several years, been the world's only machine to reduce them to 8 to 10 seconds.
This position is due to the company's outstanding capabilities, not only in the high-speed dry hobbing of planetary gears and the high-speed gear cutting of armature shafts, but also in the tangential milling of worm gears.
Gear hobbing, how it should be.
Workpiece fixture for wheel, pinion and shaft parts
Hydraulic precision collet to clamp shank hobs
Hydraulic quick clamping device for workpieces and hobs
Deburring device (vibration dampener, carrier for rehobbing sensor) available in the single or double version
Automatic chip removal unit
Oil mist suction system
Suction system for dry hobbing
Automatic orientation for skiving
Software for special programs such as skip shifting of a damaged area on the hob, for positioning tasks etc.
Magazine loading-systems for blanks or semi finished parts
Excellent vibration damping, resulting in extended tool life and superb surface finishes
MINERALIT® polymer concrete is thermally stable which ensures constant production results
Workpiece dia., max.
100 mm
4 in
Workpiece length, max.
1,000 mm
39.5 in
Module range
mm
0.3 - 2.5
Workpiece dia., max.
mm
in
100
4
Workpiece length, max.
mm
in
1,000
39.5
Hobbing length, max.
mm
in
200 / 480
8 / 19
Hobbing width, max.
mm
in
250
10
Shift distance
mm
in
160
6.5
Main spindle: Speed, max.
rpm
4,000
Hobbing speed, max.
rpm
5,000
We have the

right solution

for you!
Manufacturing lines
Complete

Manufacturing Lines

or

Automation Systems

from EMAG
SCS Stacking Cell
Highly productive production in a confined space – this is what is promised by the new stacking cells of the SCS series in combination with the vertical turning center from EMAG.

Whether for the…
Workpieces
The Right Manufacturing Solution for

Every Workpiece
Steering pinion
These days, power steering systems are standard in all cars. It is the reason why the steering pinion that transfers the movement of the steering wheel to the steering system's gear shaft is produced…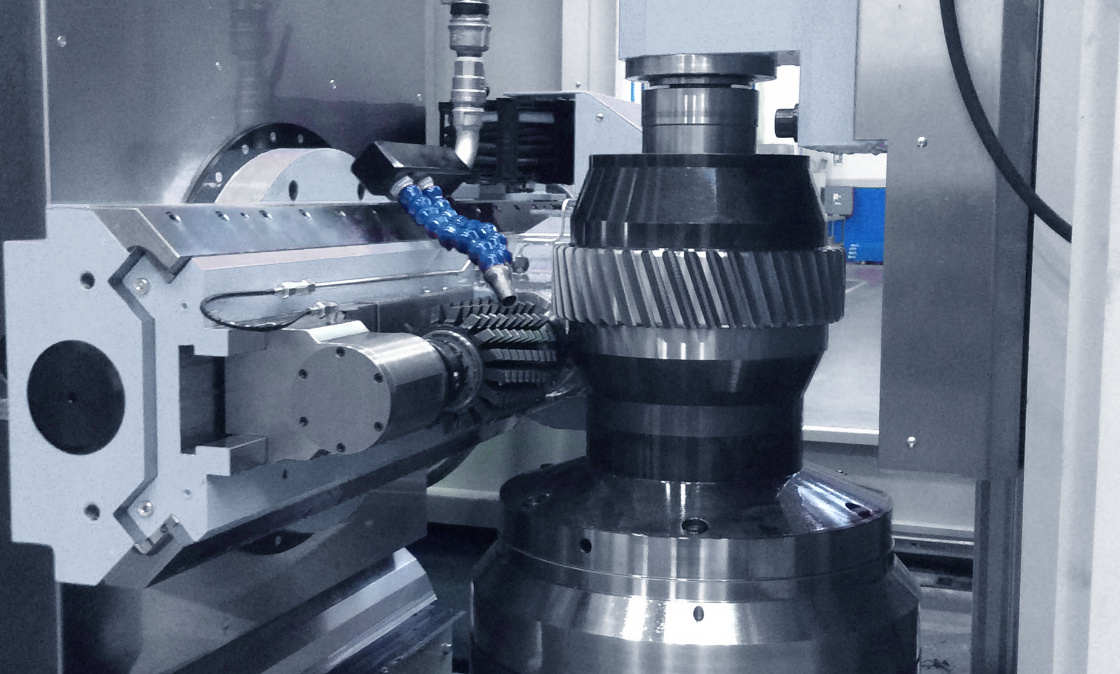 Technologies
Complex Manufacturing Systems from a Single Source

thanks to a High Range of Technologies

Flexible, highly productive, highly accurate - as a continuous gear production process, hobbing is indispensable in many industries, as it allows any…