Customized VLC
VLC 350 GT
Workpiece dia., max.: 350 mm | 14 in
Workpiece length, max.: 200 mm | 8 in
Chuck dia., max.: 400 mm | 15.5 in
---
The VLC 350 GT Turning/Grinding Machine—Hard Turning and Grinding of Chucked Components in Transmission and Engine Production
With the VLC 350 GT turning/grinding machine from EMAG, a variety of hard machining processes are performed one after the other on chucked components up to 350 mm (14 in) in diameter, in a single clamping operation.
VLC 350 GT—Turning and Grinding in One Machine
The abbreviation "GT" stands for "grinding" and "turning." It signifies the main strengths of the VLC GT machine: The combination of grinding and turning (and additional processes) with EMAG's proven pick-up automation system allows for countless manufacturing solutions.
The VLC 350 GT turning/grinding machine is larger than the VLC 200 GT, and designed for components with a maximum diameter of 350 mm (14 in).
For the first time ever, there is the option of integrating a grinding spindle with an NC swiveling axis. This can hold, for example, a cylindrical grinding element for grinding internal boreholes.
The VLC 350 GT turning/grinding machine is also perfect for small batch production. The machine has enough space in its machining area to accommodate a variety of different grinding spindles, right from the start to save time in retooling.
From Traditional Gears to Chucked Components with Internal Taper
The VLC 350 GT allows for the traditional hard machining of gears, from hard turning of end faces and pre-turning of the boreholes and outer synchronizing taper, through to finish grinding of those contours. The VLC 350 GT can also machine other chucked components with internal tapers. For components with internal tapers, the internal grinding spindle with NC swiveling axis pays off:
1. End Face Turning:
Loading (and subsequent unloading) is performed at high speeds with a pick-up spindle. The machining operation starts with hard turning of the end faces.
2. Contour Turning:
Depending on the component geometry, inner contours (with one or two tapers), a cylindrical borehole, and the outer synchronizing taper can be pre-turned in the second step.
3. Grinding the Internal Contours:
The use of a cylindrical grinding element on the swiveling NC axis makes it possible to machine various internal taper angles. To do this, the grinding spindle is swivels precisely to the required angle for the specific case. Any required boreholes are also completed this way (with a zero-degree grinding angle).
4. Grinding the Outer Contours:
The final step is the grinding of the outer synchronizing taper with the external grinding spindle.
Shorter Cycle Times—Decreasing Tool Costs
The combination machining, comprises of both (hard) turning and grinding, ensures rapid processes and high machining quality. The residual machining allowance after turning is just a few millimeters. Consequently, the grinding process with aluminum oxide or CBN grinding wheels takes considerably less time. Considering the low residual machining allowance, the specification of the grinding wheel can also be geared more specifically toward final quality. An integrated measuring probe checks the diameter and length of the component after the process. In addition, a linear motor in the X-axis ensures short chip-to-chip times, because it moves the components to the machining position particularly fast.
Flexible Configuration—Many Solutions
Owing to its performance, the VLC 350 GT turning/grinding machine is recommended for medium and high-volume production. Its ease of tooling, including two large doors and accessible tools, as well as its flexibility in terms of configuration, also make it appealing for small batch sizes with frequently changing production tasks. At the same time, the machine can be loaded manually or integrated into production lines.
Complete machining with a single clamping operation
Optimal cycle times due to combined processes
Minimal grinding wheel wear—CBN technology allows for increased productivity
12-compartment tool turret enables all EMAG machining technologies
New B-axis in the internal grinding spindle for machining of taper angles
Workpiece dia., max.
350 mm
14 in
Workpiece length, max.
200 mm
8 in
Chuck dia., max.
400 mm
15.5 in
Workpiece dia., max.
mm
in
350
14
Workpiece length, max.
mm
in
200
8
Chuck dia., max.
mm
in
400
15.5
Swing diameter
mm
in
400
15.5
X-axis travel
mm
in
2,300
90.5
Y-axis travel
mm
in
350
14
We have the

right solution

for you!
Workpieces
The Right Manufacturing Solution for

Every Workpiece
CVT Pulley
By combining hard turning and grinding methods, CVT pulleys can be machined in a single clamping operation with the VLC 200 GT.
Turbocharger Shaft
The production of turbocharger components is one of the most demanding tasks in automotive manufacturing, At EMAG, we deliver speed and precision with our complete production line solutions.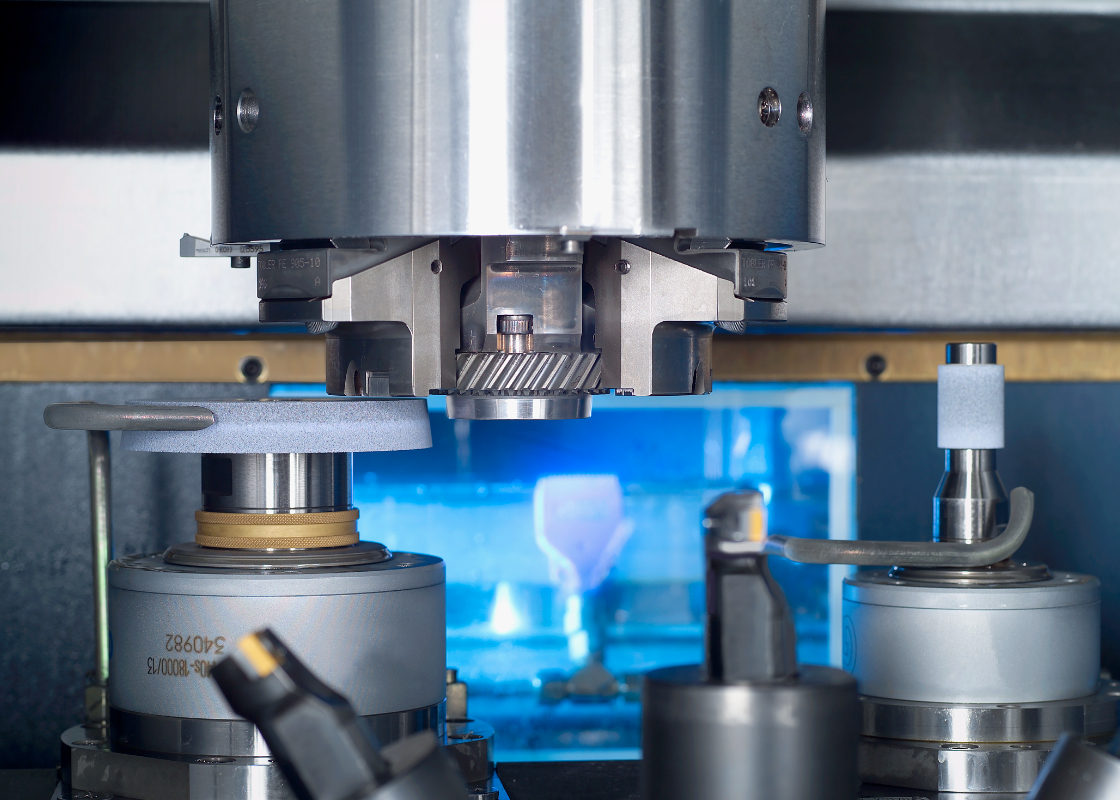 Technologies
Complex Manufacturing Systems from a Single Source

thanks to a High Range of Technologies

The combination of a number of processes – such as hard turning and grinding – on a single machine, allows for the exploitation of considerable…

Vertical turning is a machining process for metal components. EMAG was one of the first machine tool manufacturers to use the vertical turning process…