Universal Cylindrical Grinding Machines
WUG 21
Workpiece dia., max.: 640 mm | 25 in
Workpiece length, max.: 1,500 mm | 59 in
Center height: 320 mm | 12.5 in
---
WUG 21—CNC Universal Cylindrical Grinder for Single Parts, Prototypes and Small Series Production
Manual or fully automatic? With the WUG 21 CNC universal cylindrical grinder, you don't have to decide! You'll be able to switch between manual and fully automatic grinding with just a push of a button. Owing to this feature, as well as, the vast equipment catalog, the WUG 21 cylindrical grinder is the perfect machine for small batches, single parts, and prototype manufacturing.
Flexible External and Internal Grinding with the WUG 21 Universal Cylindrical Grinder
The vast equipment catalog for the WUG 21 CNC universal cylindrical grinder includes more than 25 different variants of the grinding headstock mount, which enable a wide variety of combinations of external and internal grinding spindles. The grinding spindle can be equipped with a B-axis for fast and highly accurate swiveling. In addition to the grinding spindles, there is an option for integrating a quadruple turret that can be equipped alternatively with turning tools (for hard pre-turning) or additional internal grinding spindles - allowing for the implementation of a variety of machining scenarios. The WUG 21 universal cylindrical grinder allows for grinding lengths of 650/1,000/1,500/2,000 mm (26/39/59/79 in) and tip heights of 200/250/320 mm (8/10/13 in).
The workpiece headstock with its MK4/MK5/MK6 spindle socket and a precision spindle bearing with radial running of less than 0.5 μm turns out to be just as flexible. The speed can be adjusted continuously up to 1,000 rpm and allows for an on-the-fly workpiece weight of 100 – 250 kg (220 – 551 lbs) (depending on configuration).
The perfect complement to this is the tailstock with an MK4 quill socket, also for a workpiece weight between tips of 250 kg (551 lbs). In automatic mode, a modern, fast, and grinding-oriented control unit with a Windows interface, as well as, USB and network ports ensures simple program management for optimal processes. Programming is performed using a dialog-based interface or optionally in DIN/ISO programming. All common grinding cycles are provided as standard.
Options:
In-process gaging control
Automatic balancing
GAP sensors
Transformation B-axis
2D/3D non-round grinding
Rotating dressing wheel
High-frequency spindle in various versions
Touch probe for active length positioning
Automation with loading gantry or robot
Switch between manual and automatic mode with just the push of a button
Highly flexible machine system owing to numerous options
Modern and fast control unit geared for grinding
Workpiece dia., max.
640 mm
25 in
Workpiece length, max.
1,500 mm
59 in
Center height
320 mm
12.5 in
Workpiece dia., max.
mm
in
640
25
Workpiece length, max.
mm
in
1,500
59
Center height
mm
in
320
12.5
Grindable diameter
mm
in
360 / 500
14 / 19.5
Grinding length (left wheel)
mm
in
1,500
59
Grinding length (right wheel 26°)
mm
in
450 / 1,750
17.5 / 69
Workpiece weight betw. tips*
kg
lb
300 / 400
661.5 / 882
* Option with linear rail Z-axis up to 500 kg (1,102 lbs) between the tips
We have the

right solution

for you!
Workpieces
The Right Manufacturing Solution for

Every Workpiece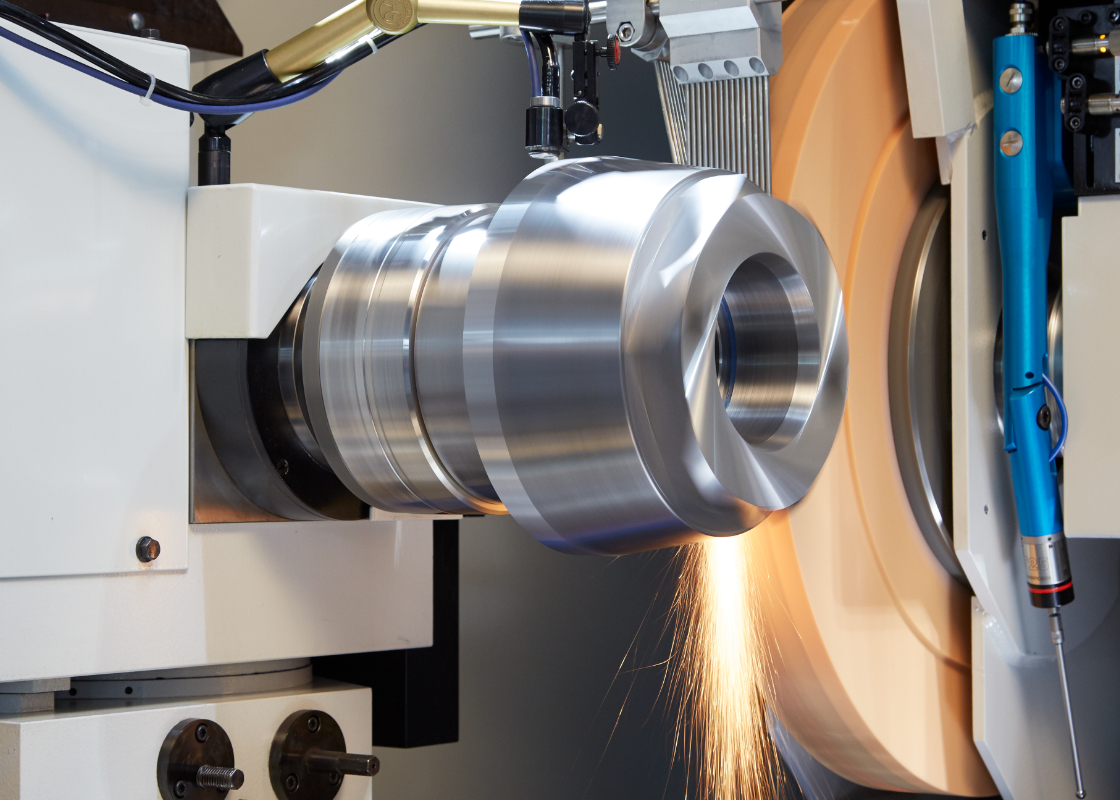 Technologies
Complex Manufacturing Systems from a Single Source

thanks to a High Range of Technologies

Universal cylindrical grinding generally refers to the cylindrical grinding process applied to the outside or inside diameter of a part. For external…