Universal Cylindrical Grinding Machines
W 27, W 37, W 50
Workpiece dia., max.: 640 mm | 25 in
Workpiece length, max.: 1,500 mm | 59 in
Center height: 320 mm | 12.5 in
---
W 27, W 37, and W 50 Production CNC Cylindrical Grinders from EMAG Weiss
These mass production cylindrical grinders from EMAG Weiss stand out from the competition because of the machines high performance and flexibility. All of these machines are designed specifically for your requirements, and are engineered, built and put into operation (including automation) by EMAG Weiss.
W27/W37/W50—Economical Solutions Mass Production Cylindrical Grinding
With its W series (W 27/W 37/W 50), EMAG Weiss offers the perfect machine for the economical cylindrical grinding of parts with medium and high-volume production.
With its large number of available options, this type of machine is configurable to fit a wide range of components in highly diverse manufacturing scenarios.
The centerpiece of these production CNC cylindrical grinders is the fast CNC control unit with a Sercos 3 interface. This is where the customized design of the machines comes into play with its user-oriented operator interface and software, such as DXF converter. Customization is also possible for the automation solutions (ex. gantry loader), which are entirely controlled by this unit.
The grinding headstock with a hydrodynamic plain bearing can drive grinding wheels up to 250 mm (10 in) in width and up to 750 mm (30 in) in diameter at a maximum output of 45 kW (60 hp).
The workpiece headstock comes with a standard MK4 – MK 6 spindle socket, but it can also be equipped with special sockets. The precision spindle bearing allows for radial running with a precision of 0.5 μm and a speed of 2,000 rpm. The workpiece placed between the tips can weigh up to 250 kg (551 lbs).
The tailstock, which can be operated both manually and using a foot switch, has an MK4 quill socket and a quill stroke of 45 mm (2 in).
Advantages
W 27, W 37, W 50
Entirely engineered by EMAG Weiss
Integration of automation system in control unit
Flexible machine system owing to a great number of options
High-output cylindrical grinding for medium and high-volume production
Workpiece dia., max.
640 mm
25 in
Workpiece length, max.
1,500 mm
59 in
Center height
320 mm
12.5 in
Workpiece dia., max.
mm
in
640
25
Workpiece length, max.
mm
in
1,500
59
Center height
mm
in
320
12.5
Grinding Ø external
mm
in
1 / 400
0 / 15.5
max. workpiece weight floating MK4
kg
lb
100
220.5
max. workpiece weight between centres
kg
lb
250
551
We have the

right solution

for you!
Workpieces
The Right Manufacturing Solution for

Every Workpiece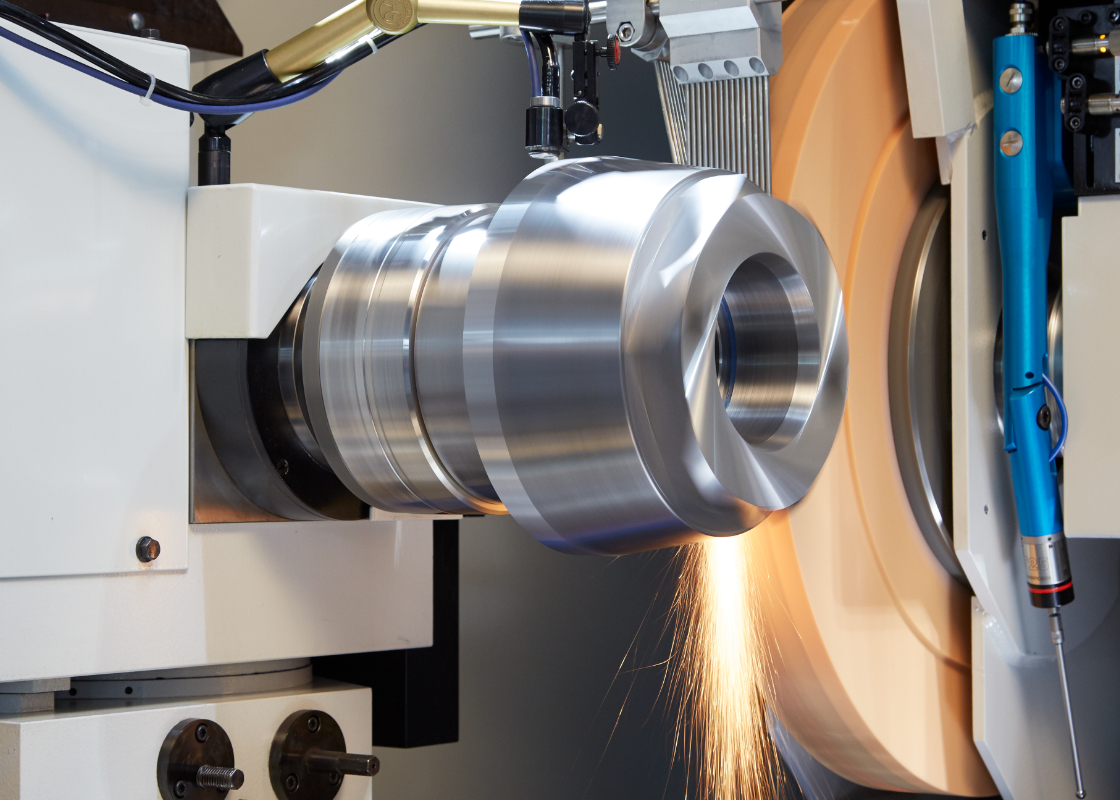 Technologies
Complex Manufacturing Systems from a Single Source

thanks to a High Range of Technologies

Universal cylindrical grinding generally refers to the cylindrical grinding process applied to the outside or inside diameter of a part. For external…