ECM / PECM Machines
PI 800
Machining area: mm 600 x 600 x 600
Clamping surface: mm 600 x 400
Generator capacity: A (DC) 800 – 2.500
---
Premium Integrated (PI) 800: The optimal entry-level machine for the (P)ECM process
With the PI modular machine platform, EMAG's successful concept, i.e. same basic structure combined with customized technology, now also makes inroads at EMAG ECM. This offers you maximum flexibility for your machining projects in the area of electrochemical machining (ECM/PECM).
The right module for each application in electrochemical machining.
Electrochemical machining (ECM or PECM) can be used to machine a great number of different workpieces. Which technology comes to be used depends on the requirements of the workpiece. ECM can be implemented for deburring, drilling, inside profiling or even for gear cutting. If you want to achieve a high level of reproduction accuracy, then PECM is the right choice.
EMAG ECM already offers highly specialized machine solutions for both technologies, which are implemented for a wide variety of industries throughout the world. Above all, ECM and PECM are implemented wherever demanding materials (e.g. very hard) are to be machined or if material removal technologies reach their limits or simply are too expensive, e.g. if a burr and chip-free component can only be achieved through elaborate finishing.
Despite the many advantages that the technology offers, it remains unknown to many users. EMAG ECM now wants to change this with its new PI. To achieve this, the PI 800 ECM machine draws on the successful principle of the CI deburring machine—a machine design that always remains the same and a technology that perfectly matches the application. This allows for fast delivery, low costs and above all simpler handling.
To begin with, there is the compact machine design. The entire machine technology, incl. electrolyte management and electrical engineering, fits onto a forklift-compatible basic framework. Yet, the actual revolution is the modular design of the machining area. Users can choose from two modules: The PECM module with oscillator and the ECM dipping module, both for simultaneous machining of several identical workpieces.
Mineralit for highest precision
Each of the modules is built onto a machine base made of MINERALIT® polymer concrete, a further innovation that has been adopted from EMAG's modular machines. MINERALIT® has optimal vibration-damping properties and contributes to the modules' high precision. The linear guides with absolute measuring systems, which ensure high rigidity and precision during machining operations, are fastened onto the machine base.
Compact, modular design with integrated electrolyte filtration
Many possible applications
Highly rigid machining modules
Direct distance measurement using linear scales
Oscillation modul, 200 mm stroke
Sinking modul, 400 mm stroke
Scalable generator technology/pulse technology
SIEMENS S7-1500 machine control unit
Monitoring of all parameters with a single control unit
Minimum pulse length 50 µs
Manual or semi-automatic loading
Fast upgrade to full automation
Options available for optimal process and productivity
Machining area
600 x 600 x 600 mm
Clamping surface
600 x 400 mm
Generator capacity
800 – 2.500 A (DC)
| | | |
| --- | --- | --- |
| Machining area | mm | 600 x 600 x 600 |
| Clamping surface | mm | 600 x 400 |
| | | |
| --- | --- | --- |
| Generator capacity | A (DC) | 800 – 2.500 |
| Generator capacity | A (pulse) | 2.000 – 8.000 |
We have the

right solution

for you!
Workpieces
The Right Manufacturing Solution for

Every Workpiece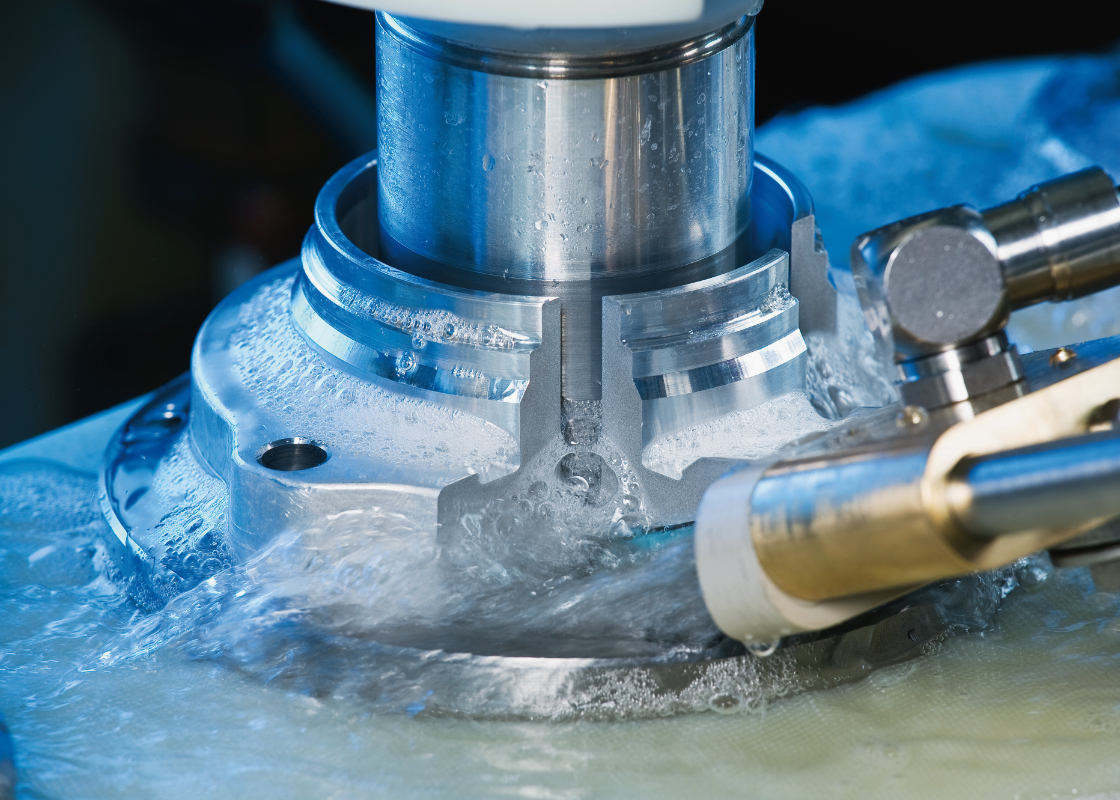 Technologies
Complex Manufacturing Systems from a Single Source

thanks to a High Range of Technologies

Chip-producing drilling is a fast and effective process for many applications.
However, what to do when the pressure on the tool that is supposed to…

ECM is the ideal technology for machining rifle barrels. Employing a special machine solution in the PI machine produces high-precision internal…

The use of electro-chemical metal removal processes guarantees surfaces of the highest quality - even on filigreed components. To achieve even greater…