Production VSC
VSC 500
Workpiece dia., max.: 500 mm | 19.5 in
Workpiece length, max.: 200 mm | 8 in
Chuck dia., max.: 500 mm | 19.5 in
---
Automated Production Lathe for Heavy-Duty Machining
Where large, heavy workpieces have to be machined, the manual loading of horizontal lathes is very time-consuming and can also be very costly if loading gantries are used.
The advantages of the VSC 500 vertical lathe become particularly obvious in the machining of large workpieces, especially when such components not only have to be turned, but also drilled/bored, countersunk, reamed and threads, milled, with keyways or other features added. For such requirements the VSC 500 production machine offers complete-machining in a single setup.
Large Workpieces Efficiently Machined on the Automated VSC 500 Lathe
The VSC 500 features an exceptionally robust construction and features a main drive with a power rating of up to 71 kW and a max torque of 750 Nm. Very compact as well, the lathe features a length of just 4 m and a width of just 1.96 m, creating a floor space requirement (without auxiliary equipment) of just under 8 m².
The front wall of the machine features the permanently fixed, and therefore very sturdy, 12-station turret for stationary turning and driven drilling / milling tools.
Every machine is a production cell that utilizes its pick-up spindle to load itself
Short machining travel times and short workhandling times
Multifunctional production tool: turning, drilling, milling, grinding and other processes
The workpiece travels while the tooling systems remain stationary
Ideal chip flow conditions because the tools are located below the workpiece
The work spindle with a hydro-static guideway in Z-axis (optional) ensures outstanding component quality and a high tool life for soft and hard machining operations
All accuracy defining machine assemblies are fluid-cooled
Safe, wear resistant, maintenance-free machining area envelope
Dry machining is easy with the VSC as the work spindle and tools are ideally positioned for the process
Workpiece dia., max.
500 mm
19.5 in
Workpiece length, max.
200 mm
8 in
Chuck dia., max.
500 mm
19.5 in
Workpiece dia., max.
mm
in
500
19.5
Workpiece length, max.
mm
in
200
8
Chuck dia., max.
mm
in
500
19.5
Swing diameter
mm
in
520
20.5
X-axis travel
mm
in
1,000
39.5
Z-axis travel
mm
in
400
15.5
We have the

right solution

for you!
Manufacturing lines
Complete

Manufacturing Lines

or

Automation Systems

from EMAG
Bin Picking Automation
Bin picking, or "reaching into the box," is a technology in which a robotic arm uses a 3D sensor system (3D camera, scanner, ...) to remove workpieces in a chaotic position from a mesh box or similar.…
SCS Stacking Cell
Highly productive production in a confined space – this is what is promised by the new stacking cells of the SCS series in combination with the vertical turning center from EMAG.

Whether for the…
TrackMotion
With the TrackMotion automation system, a "TransLift" unit runs through the machines on a rail system (track). Functions of the TransLift include picking up and placing parts with different heights,…
Workpieces
The Right Manufacturing Solution for

Every Workpiece
Azimuth drive
The boom in the wind power industry is showing no sign of stopping. All around the world, renewable energies are a popular investment vehicle and wind turbines are playing an increasingly important…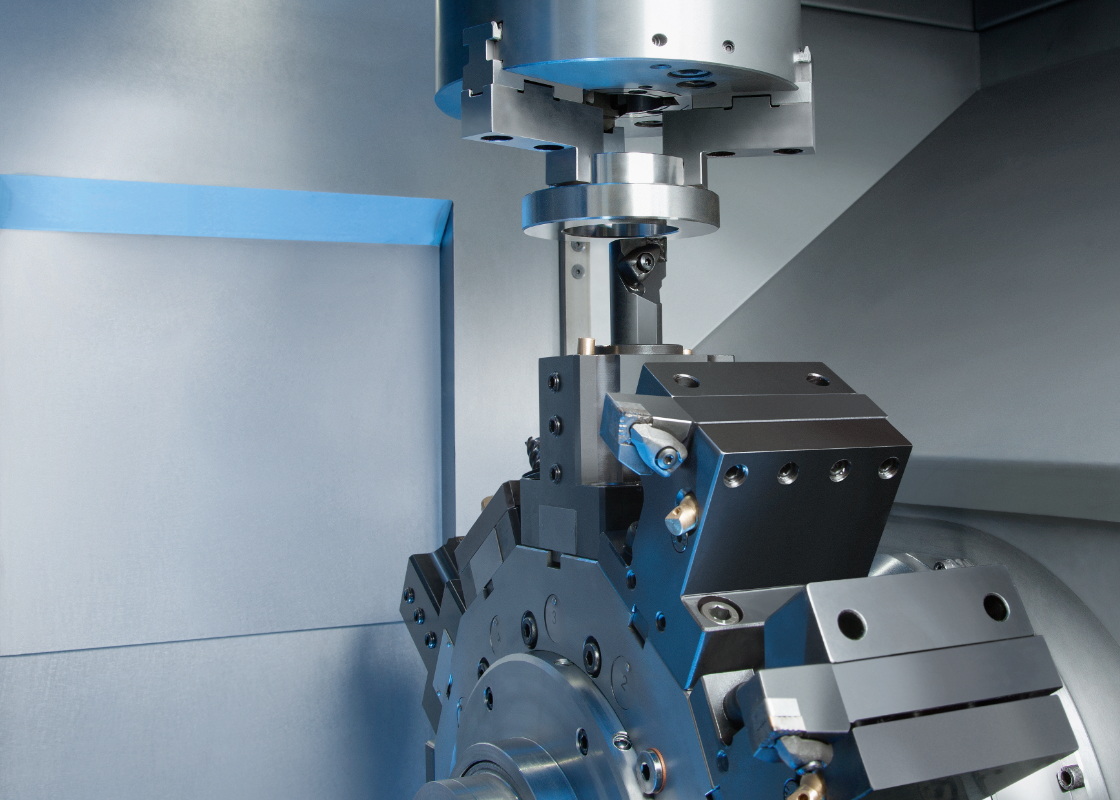 Technologies
Complex Manufacturing Systems from a Single Source

thanks to a High Range of Technologies

Drilling is one of the oldest production methods and has been used by humans since the Stone Age.

Vertical turning is a machining process for metal components. EMAG was one of the first machine tool manufacturers to use the vertical turning process…