Camshaft Grinding Machines
SN 310 / SN 320
Workpiece dia., max.: 360 / 640 mm | 14 / 25 in
Workpiece length, max.: 1,000 / 2,000 mm | 39.5 / 78.5 in
X-axis travel: 500 mm | 19.5 in
---
EMAG SN 310 / SN 320 for one-offs and volume production of camshafts
Whether they machine camshafts for highpowered formula 1 gas-guzzlers or for environmentally friendly, economical, mass-produced passenger cars, the SN series of CNC Grinders for camshafts from EMAG KOPP ensures that you always grind from pole position, whatever the requirement.
Camshafts for motorcycles, passenger cars and heavy goods vehicles, even those with the smallest concave radii, can be ground, thanks to CBN technology in the CNC Grinders, as easily as camshafts for heavy-duty diesel engines.
CNC Grinders for the machining of camshafts
A choice of three different grinding lengths and two different center heights offers appropriate machines to suit diverse component geometries. The compound table design reduces the footprint of the CNC Grinders and brings savings in expensive production floor space. All CNC Grinders got Hydrostatic guideways in all linear axes and a hydrostatic leadscrew-drive in the infeed axis that allow for the shortest, most accurate infeeds and an optimal continuity of movement, resulting in excellent surface finish and superb contour accuracy of the camshafts.

The modular machine design of the CNC Grinders offers:
various work heads, tailstocks and grinding units
in-process and post-process gauging equipment
dressing attachments for CBN and corundum grinding wheels
touch-recognition during grinding and dressing
automatic balancing units
different sizes of workholding units, chucks and steadies
environmentally friendly cutting oil processing plants and extraction systems
automated loading hatch and interface for an integral or external automatic loading / unloading device
Advantages
SN 310 / SN 320
Identical basic machines for a variety of manufacturing tasks
Standardized operation and part programming with the state-of-the-art EMAG operating and programming system, resulting in a shorter learning curve, flexible staff deployment and the simplification of multiple-machine operations
All modern grinding technologies can be realized
The machines can be equipped with one, two or more grinding wheels for external out-of-round and/or cylindrical grinding
The compound table design reduces the footprint
Hydrostatic ball screw and hydrostatic guideway in X-axis
A twin-slide variation of the machine is available
Workpiece dia., max.
360 / 640 mm
14 / 25 in
Workpiece length, max.
1,000 / 2,000 mm
39.5 / 78.5 in
X-axis travel
500 mm
19.5 in
Workpiece dia., max.
mm
in
360 / 640
14 / 25
Workpiece length, max.
mm
in
1,000 / 2,000
39.5 / 78.5
X-axis travel
mm
in
500
19.5
Z-axis travel
mm
in
1,700 / 2,700
67 / 106.5
We have the

right solution

for you!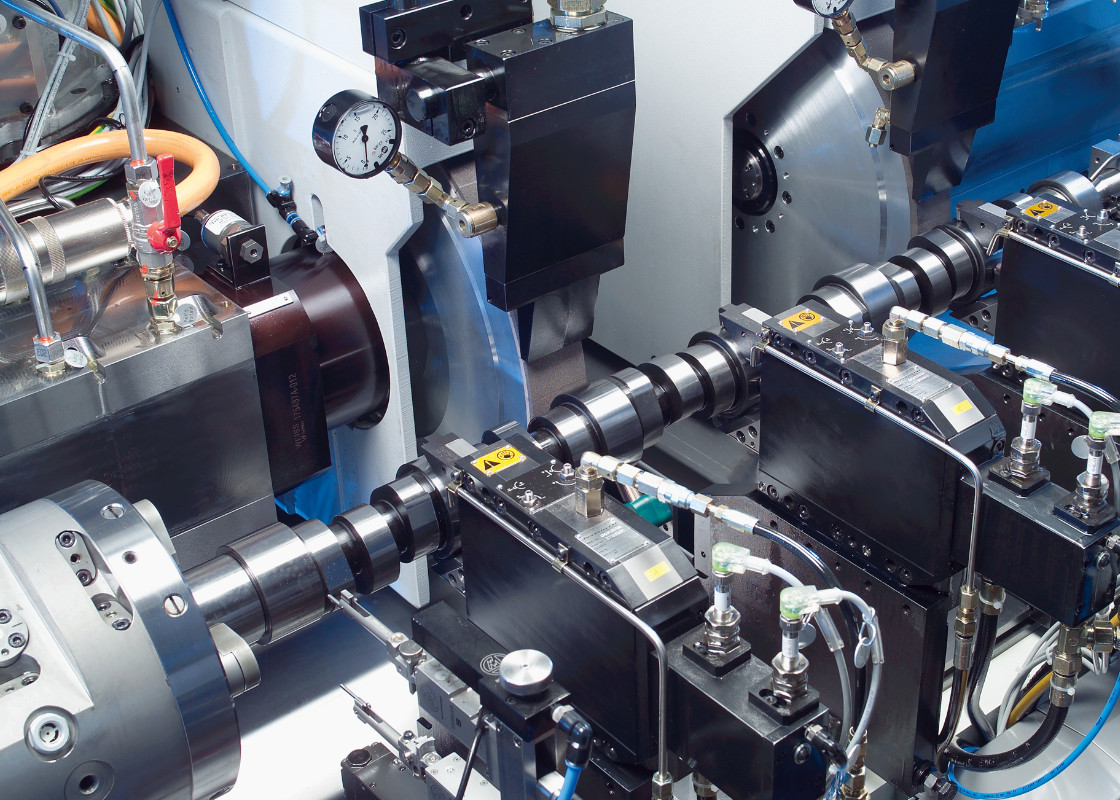 Technologies
Complex Manufacturing Systems from a Single Source

thanks to a High Range of Technologies

Out-of-round grinding with CBN grinding technology allows high-precision machining of cams, camshafts, pump rings and other components with…