External Cylindrical Grinders
VTC 315 DS
Workpiece dia., max.: 240 mm | 9.5 in
Workpiece length, max.: 700 mm | 27.5 in
Chuck dia., max.: 315 mm | 12.5 in
---
CNC Machine for Grinding Shafts with Demanding Geometries
The VTC 315 DS CNC machine accommodates all the variations of process integration for shaft components including turning, hard turning, scroll-free turning, simultaneous grinding and synchronous support grinding as well as the combination of turning and grinding.
VTC 315 DS – Equipped with Various Technologies for Shaft Production
With the VTC 315 DS machine, EMAG provides vertical and simultaneous shaft grinding. In contrast to the standard method, this CNC machine holds the workpiece vertically for simultaneous, four-axis machining by two opposing grinding spindles. The normal forces are canceled out and grinding times for components such as gear shafts with multiple bearing seats can be drastically reduced. When used for synchronous support grinding, the resulting tangential forces that act on the shaft are absorbed by a movable support axis, so even thin workpieces with high infeed rates can be machined.
Both turning and grinding technologies can be used on the VTC 315 DS. The turret can perform turning and milling operations while grinding is located at the second station. Complete shaft production is made possible with cylindrical bearing seats, shoulders and grooves all machined in a single setup. Runout errors are drastically reduced in comparison with machining in separate setups.
As an extremely fast hard machining method, EMAG scroll-free turning ensures maximum productivity for workpieces up to 700 mm in size. Thanks to scroll-free turning, the multi-functional machine enables seal seat machining with the crucial requirement of no tool marks. Dry machining is also possible.
All hard machining processes on a single machine: CBN grinding, hard turning and scroll-free turning
Integrated loading and unloading: the EMAG turret reduces the cost for automation and peripherals. Raw-part and finished component storage are integrated into the machine
Tailstock and steadies are CNC controlled. Set-up and resetting times are reduced
Shafts are hard complete-machined, eliminating re-clamping errors
The vertical construction of the machine provides ideal chip flow conditions and prevents the build-up of chip clusters
The compact, vertical construction also creates a small footprint
The machine can be accessed and operated with ease, this ensures that set-up and restooling times are minimized
Workpiece dia., max.
240 mm
9.5 in
Workpiece length, max.
700 mm
27.5 in
Chuck dia., max.
315 mm
12.5 in
Workpiece dia., max.
mm
in
240
9.5
Workpiece length, max.
mm
in
700
27.5
Chuck dia., max.
mm
in
315
12.5
X-axis travel
mm
in
390
15.5
Z-axis travel
mm
in
950
37.5
We have the

right solution

for you!
Workpieces
The Right Manufacturing Solution for

Every Workpiece
Rotor Shaft - Assembled (Electric Motor)
Rotor shafts in stationary electric motors are usually solid shafts with a smaller diameter. Alone, these rotor shafts are not heavy, however the small diameter of the shaft requires that a large…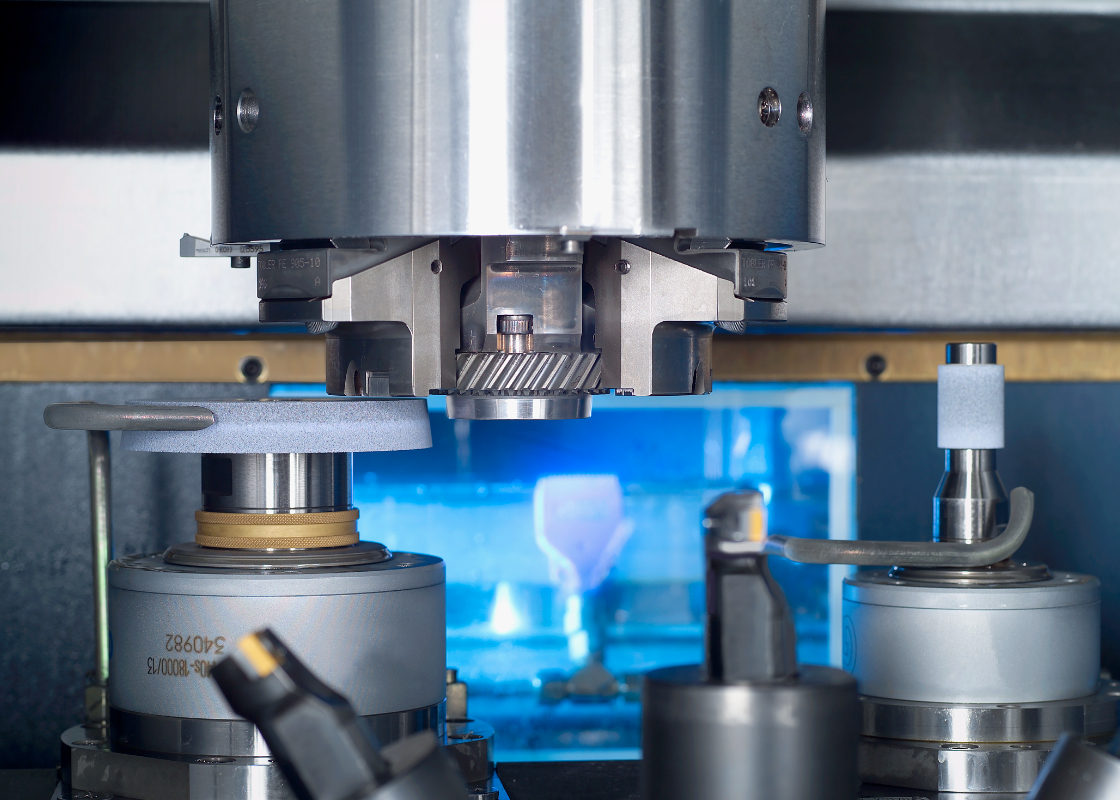 Technologies
Complex Manufacturing Systems from a Single Source

thanks to a High Range of Technologies

Finding the right balance between flexibility and productivity is challenge of designing machines for cylindrical grinding.

This demand is met with…

The combination of a number of processes – such as hard turning and grinding – on a single machine, allows for the exploitation of considerable…

The synchronous support grinding process on the VTC 315 DS uses two CBN grinding wheels to simultaneously grind – from opposite sides – vertically…