ECM / PECM Machines
CI 400
Machining area: mm 1.150 x 950 x 630
Clamping surface: mm 1.150 x 800
Generator capacity: A (DC) 400 – 2.500
---
The EMAG CI 400 Electrochemical Machining Unit is the Perfect Solution for the Production of Rotor Carriers
Rotor carriers are components of electric motor housings for hybrid vehicles and the quantities produced are continuing to increase. Electrochemical machining, or ECM, provides major benefits for the production of these parts.
Designed for the Production of Machining Pipe Carriers
Easier: Burr- and chip-free machining for high output quantities
Stability: Thermally neutral machining while simultaneously avoiding microscopic cracks and white layers
Faster: Machining several workpieces simultaneously with several active cathodes
Flexibility: The CI 400 is flexible enough to enable both soft and hard machining
What is ECM?
Electrochemical machining is a contact-free production process that chemically removes material from a component, and is particularly effective when working with hard materials. This process is perfect for everything from simple deburring all the way to manufacturing.
The ECM technology provides residue-free machining of metal parts without contacting the workpiece. This makes the technology ideal for machining thin-walled workpieces, such as rotor carriers. Since the tool never makes contact with the workpiece at any time during machining, there is absolutely no warping. ECM also creates surfaces that require no finishing after the process.
Contact-free machining without thermal or mechanical effects
Complex geometries possible
No wear on the cathode
Rough depths up to Rz 0.2/Ra 0.05 (depending on the material)
Machining of hardened components and highly temperature resistant materials
Cycle times scalable through device design
Machining area
1.150 x 950 x 630 mm
Clamping surface
1.150 x 800 mm
Generator capacity
400 – 2.500 A (DC)
| | | |
| --- | --- | --- |
| Machining area | mm | 1.150 x 950 x 630 |
| Clamping surface | mm | 1.150 x 800 |
| | | |
| --- | --- | --- |
| Generator capacity | A (DC) | 400 – 2.500 |
| Generator capacity | A (Puls) | 400 – 8.000 |
We have the

right solution

for you!
Workpieces
The Right Manufacturing Solution for

Every Workpiece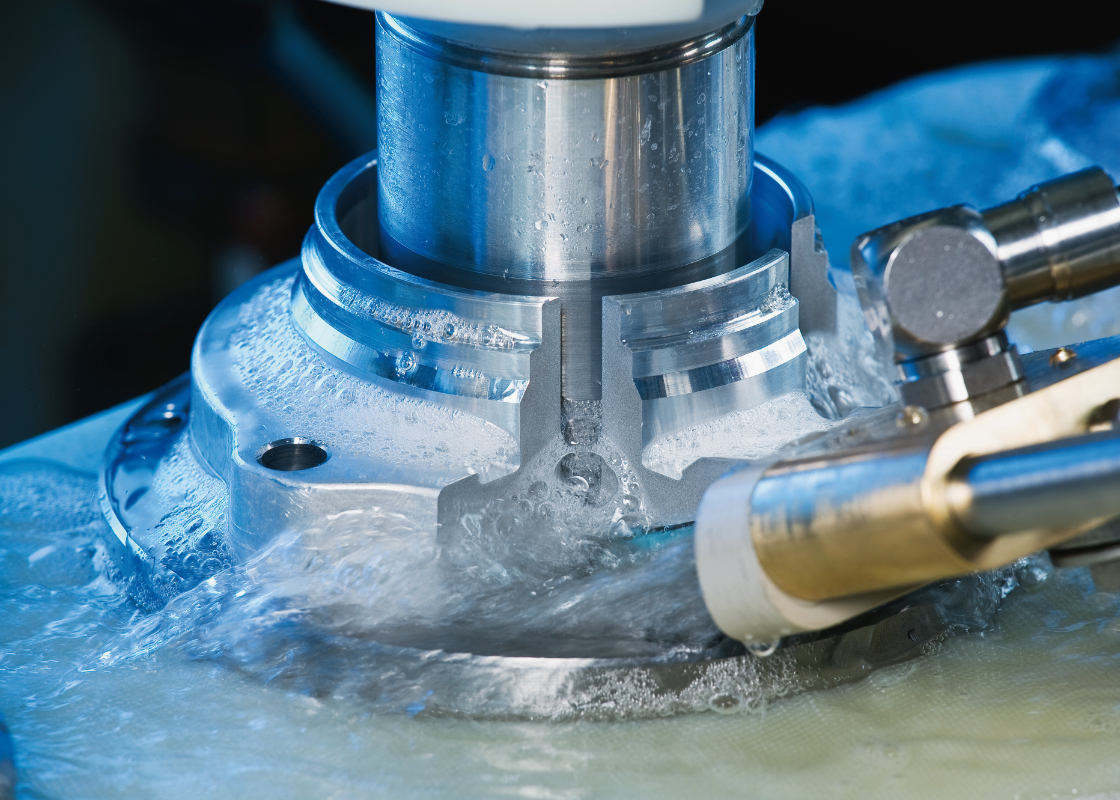 Technologies
Complex Manufacturing Systems from a Single Source

thanks to a High Range of Technologies

Electro-Chemical Machining (ECM) is the generic term for a variety of electro-chemical processes. ECM is used to machine workpieces through the anodic…

Deburring does not count as a core process in machining. On the contrary, it has up to now been considered a necessary evil.

Again and again this has…

Chip-producing drilling is a fast and effective process for many applications.
However, what to do when the pressure on the tool that is supposed to…