Customized VLC
VLC 200 GT
Workpiece dia., max.: 160 mm | 6.5 in
Workpiece length, max.: 100 mm | 4 in
Chuck dia., max.: 210 mm | 8.5 in
---
VLC 200 GT—Hard Machining of Chucked Components up to 200 mm (8 in) in Diameter
The VLC 200 GT uses a combination of various methods for the hard machining of chucked components. The user has a wide range of options including grinding, scroll-free turning and hard turning. The large machining area can be configured to fit any machining requirements.
VLC 200 GT—The optimal machining technology for the shortest cycle times at any time
The turning/grinding center is ideal for the machining of gear wheels. To achieve this, the machine is equipped with a 12-post turning turret, a powerful external grinding spindle and an internal cylindrical grinding spindle.
The VLC 200 GT uses a variety of machining technologies to minimize overall machining times. This allows, for example, all batches to be reliably machined using turning and hard turned to finish quality, only grinding (after hard pre-turning) in areas where quality and process reliability require it.
The machine works with the EMAG pick-up principle and can be automated either with a shuttle or with a circular storage system.
Complete Hard Machining in a Single Clamping Operation
Complete machining on a single machine and in a single clamping operation ensuring high workpiece quality and productivity. Since there are only a few micrometers of material left after the hard pre-turning, only a small amount of material is left to be removed during the subsequent grinding. This reduces the wear of the grinding wheel.
This, in turn, leads to considerable cycle time advantages, because the grinding wheel does not need to be dressed as often. Additionally, because only a small amount of material needs to be removed through grinding, the grinding wheel specifications can be precisely targeted for final surface quality. As a result, reliable surface values in the range of Rz < 1.6 μm can be achieved.
All EMAG machining technologies are available to the user for the actual machining operation: internal and external grinding spindle, scroll-free turning tools, block tool holders, and the proven 12-post tool turret. The perfect blend of technologies can be implemented on the VLC 200 GT for any application, and any workpiece.
The modular, compact design enables customized solutions for chamfering and deburring
Minimum grinding wheel wear
Complete machining in a single clamping operation
Use of CBN grinding wheels (optional): greater productivity through CBN technology
All components are supplied by the EMAG Group, guaranteeing optimal quality and availability
Optimized cycle time by combining methods
Short non-productive times owing to pick-up automation
Automatic loading ensures consistent workpiece clamping and thereby optimal results
Optimal interlinking with other modular machines from EMAG
Ideal for manufacturing transmission components
Workpiece dia., max.
160 mm
6.5 in
Workpiece length, max.
100 mm
4 in
Chuck dia., max.
210 mm
8.5 in
Workpiece dia., max.
mm
in
160
6.5
Workpiece length, max.
mm
in
100
4
Chuck dia., max.
mm
in
210
8.5
X-axis travel
mm
in
1,700
67
Z-axis travel
mm
in
250
10
We have the

right solution

for you!
Workpieces
The Right Manufacturing Solution for

Every Workpiece
CVT Pulley
By combining hard turning and grinding methods, CVT pulleys can be machined in a single clamping operation with the VLC 200 GT.
Gear wheels (e-bikes)
Regardless of whether they are made of plastic or metal, EMAG solutions can be used to manufacture a wide variety of gear wheels. Thanks to the wide range of technologies available at EMAG, we can…
Turbocharger Shaft
The production of turbocharger components is one of the most demanding tasks in automotive manufacturing, At EMAG, we deliver speed and precision with our complete production line solutions.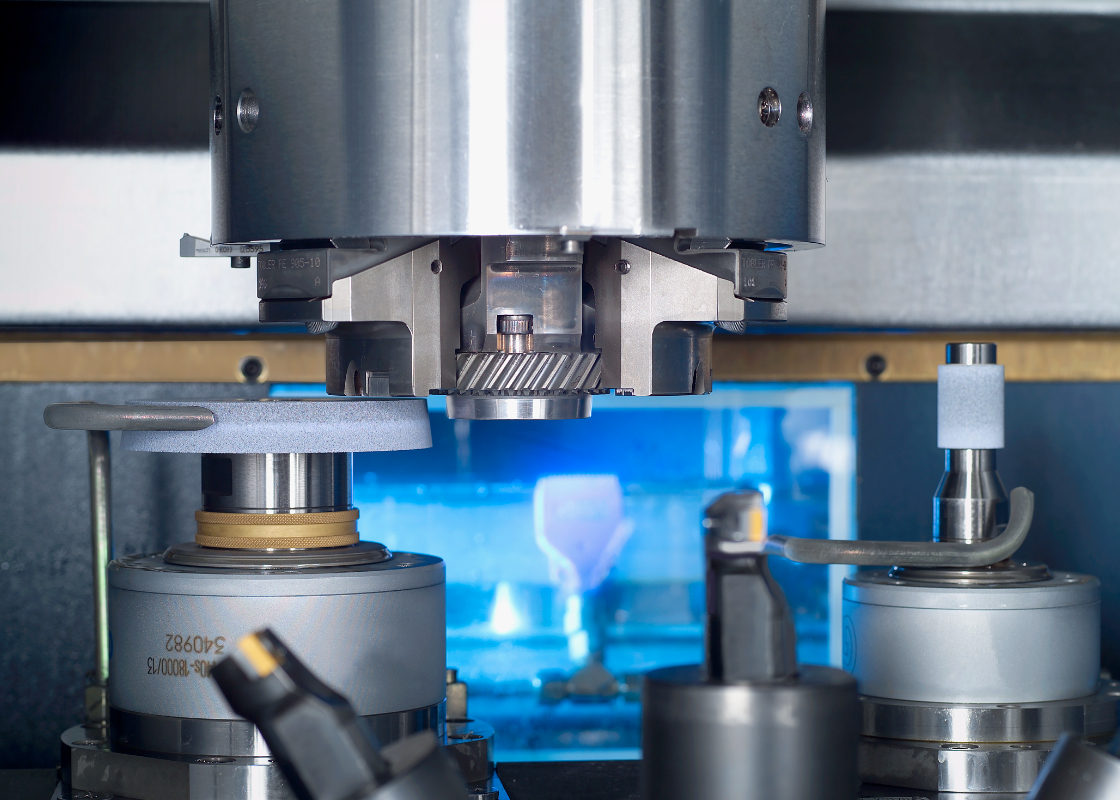 Technologies
Complex Manufacturing Systems from a Single Source

thanks to a High Range of Technologies

The combination of a number of processes – such as hard turning and grinding – on a single machine, allows for the exploitation of considerable…

Vertical turning is a machining process for metal components. EMAG was one of the first machine tool manufacturers to use the vertical turning process…