Networking @ EMO: Series of interviews with the experts at the EMAG Group with whom you can exchange views at the EMO.

"Smart technologies drive tomorrow's production!" That is the motto for EMO 2019 in Hanover, Germany. Yet, we are convinced that not only smart technologies are important, but above all smart people—and they must be brought together to talk to one another.
That is why we will not only focus on networked technologies at the EMAG Group's booth, but above all on networking with our visitors.
In order to let you look ahead and find out whom you absolutely should talk to at the EMO, in the coming weeks, we will regularly interview our experts who will also be attending the EMO in Hanover.
Interview with Andreas Endmann, EMAG eldec GmbH
Mr. Endmann, could you briefly introduce yourself and describe your duties at EMAG eldec?
I'm responsible for the worldwide sales of hardening systems. In other words, my team and I are the contact people within the EMAG Group when it comes to developing solutions to harden components using the induction hardening technology.
For people who are not yet familiar with induction hardening—what are the main advantages of this technology and who should invest in it?
Well, it is essentially worthwhile for anyone who needs to harden a component to at least check whether induction hardening can be implemented. To begin, the basic condition for induction hardening is the steel to be hardened. It must have a carbon content of at least 0.3%. Once this has been established, the rest is mainly a question of requirements. The main arguments in favor of induction hardening are line integration, i.e. in-line hardening without any parts traveling around the plant, the energy efficiency of modern induction hardening as opposed to traditional oven hardening and above all, low component costs. Since induction hardening lets us precisely control where and how deep we harden a given component, occurring deformations are only minimal, which simplifies the overall finishing work and thus reduces the cost per piece. If readers still have concrete questions at this stage: Just come and visit our booth at the EMO, we'd gladly talk about very concrete applications.
Everyone is talking about electromobility and many manufacturers are developing new models with this new drive technology. Does this also have an impact on induction hardening?
Of course, because new components are always being created and solutions must be found. In the case of an electric motor, this would, for example, be the rotor shaft. Nearly every manufacturer and every supplier is currently developing their own solutions, which ultimately leads to the fact that there is a great number of different rotor shafts that must be hardened: Solid shafts, hollow shafts, shafts on which only the bearing seats need to be hardened and then the whole shaft is hardened again. This is obviously an enormous challenge for process development, since you need to start all over with nearly every shaft. In this case, "one size fits all" is not an option. At EMAG eldec, we have the advantage of having a flexible machine base that can be used to machine all these different components and which can be designed for a wide variety of processes.
Will you be presenting this machine at the EMO?
Yes, precisely, the MIND-L 1000. The machine replaces our tried and proven MIND-750/1500 series. We've overhauled the previous technology in every detail, and among others we've improved its ability to be integrated in EMAG production lines. For instance, an integrated gantry automation is available as an option for easy interlinking. Another important aspect is that the machine's structural design has been fundamentally rethought—with a decisive effect: The price of the machine is lower than its predecessor without giving up on quality.
What's more, we will also be showing our new eldec High Precision Tool System (HPTS). It is a multi-stage concept intended to improve component quality and repeatability. This, for example, includes our newly developed system for 3D printing of inductors, precision holders on hardening machines and a new measuring system for inductors.
Who would you like to reach with your new machine?
Basically, everyone who wants to harden a great quantity of components as part of the line cycle. The machine is so flexible that it really can be implemented universally. Tools, coolant systems, clamping devices and energy sources, nearly everything can be configured and can be specified for a multitude of applications. If you want to harden a workpiece of up to 200 millimeters in diameter and with a maximum length of 800 millimeters, you should come and visit us at our booth.
Tell us very briefly why one should make sure to visit the EMAG Group's booth at the EMO.
As mentioned earlier, to see our new hardening machine. By the way, we will also show its new operator panel. Besides, visiting the EMAG Group's booth is always a good idea. For the broad range of technologies that we will be showing often allows for synergies that you may not have thought of before. Where else than at the EMO do you have an opportunity to discuss a topic so extensively and get an expert from an entirely different department or technology company to take part in the discussion? This is what makes the EMO so unique.
---
Induction hardening at EMO 2019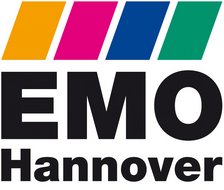 Visit EMAG at the EMO 2019 in hall 17, at booth C29, and see for yourself of the performance of EMAG's machines.
Get free tickets here: https://www.emag.com/events/emo/tickets-contact.html
---