Large components and complex geometries—in heavy machining, this combination is far from being rare and always synonymous with a high expenditure of time and rising costs. The reason is that the various machining processes from turning to gear cutting are frequently performed in different machines that are not entirely interlinked with one another.
With its vertical turning/milling center VMC 450-5 MT, EMAG Leipzig breaks the vicious circle in an impressive manner: All turning, milling, drilling and gear cutting processes take place in a single machining area. To achieve this, the machine is equipped with five axes. This results in shorter throughput times and a minimal tooling effort—with increasing component quality and diversity.
Possible applications in heavy machining
There are numerous possible applications for the VMC 450-5 MT, since, on the one hand, many large-sized components in utility vehicles and industrial transmissions in shipbuilding and railway construction or in the agricultural and mining sector are unusually complex. For instance, they include severaldirectional bore holes and surfaces or gearings that must be produced very precisely and free of faults. On the other hand, at many production sites a great number of different versions of components are produced in rapid succession.
The VMC 450-5 MT is perfectly tailored to meet just these challenges. Turning is the main technology. The bottom-mounted, maintenance-free workpiece spindle is integrated in the generously dimensioned Y-axis. Also available is a B-axis having a swivel angle of 195 degrees with the integratedturning/milling spindle. This swivel angle enables the attachment of an additional fixed tool socket to the B-axis. Maximum removal rates can thus be achieved in heavy machining even with interrupted cuts. The tool socket can be loaded by the tool magazine. The combination of axes allows for hobbing or skiving applications to be performed. Turning, milling, drilling and gear cutting without compromise—all the technologies required to manufacture a complex component are onboard the VMC 450-5 MT.
Planetary carriers: From six machines down to three
The example of "planetary carriers" ideally shows the advantages that this approach provides in practice. Traditionally, this key transmission component in heavy machining runs through six different machines that are not entirely interlinked—starting with two turning operations, continuing with broaching/gear hobbing and finishing with drilling and balancing. The operator therefore needs to retool six different machines at every batch change. This has a negative impact on process reliability and productivity. Moreover, the entire production sequence is relatively slow and inflexible, because the component must be transported to the next machine with a forklift.
However, the situation is very different when using the VMC 450-5 MT: During the main machining operation, the planetary carrier will now only run through two machines that are automated with a robot. The turning, drilling, milling and power skiving machining processes are flexibly distributed over the two machines. The end result is a balanced process time and very high output. Of course, the balancing machine is integrated in the EMAG automation cell. Workpiece labeling and cleaning can be performed in parallel at the same time. So, the component is now picked up no more than three times (instead of six). The low number of clamping operations improves component quality and process reliability. Given the perfectly coordinated machine operating cycles, downtimes are minimal and even energy consumption is considerably reduced. Furthermore, several measuring systems provide for consistent quality management. This means that their production of planetary carriers is achieved with greater precision, faster and also more economically and thus more cost-effectively overall. The tool magazine with up to 80 tool posts does not least play an important role. It can store all the tools or twin tools (in case of wear) required for various different component variants. The tool change is performed automatically and that is why the operator now only needs to replace the clamping jaws when retooling—and that, in turn, is performed from the front side, while a robot keeps loading workpieces through a side door without any downtime of the machine or line.
---
The VMC 450-5 MT live at the EMO 2019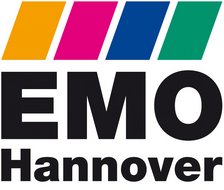 Visit EMAG at the EMO 2019 in hall 17, at booth C29 and convince yourself of the VMC 450-5 MT's performance. Get free tickets here: https://www.emag.com/events/emo/tickets-contact.html.