Together with the local community of Salach, the EMAG Group organizes the Staufen-Alb regional competition. Both support the competition in order to offer young researchers from the region a platform for inventiveness and creativity. Pupils, students and trainees from the surrounding area thus have the opportunity to demonstrate their talent at this regional competition in February each year. The winners of the regional competition qualify for the state competition.
Research is conducted in the following subject areas: The world of work, biology, chemistry, earth and space sciences, mathematics/computer science, physics and technology.
All students who are at least in the fourth grade and no more than 21 years old can participate in Jugend forscht. Children and young people who are keen on research and experimentation could register for the 2022 competition with an individual work or a group work with up to three people on the Jugend forscht website by Nov. 30, 2021.
The competition will take place virtually on February 18, 2022 due to Covid preventive measures.
More information about Jugend forscht at: www.jugend-forscht.de
For the competition on Feb. 18, 2022 at: Link (Coming soon)
---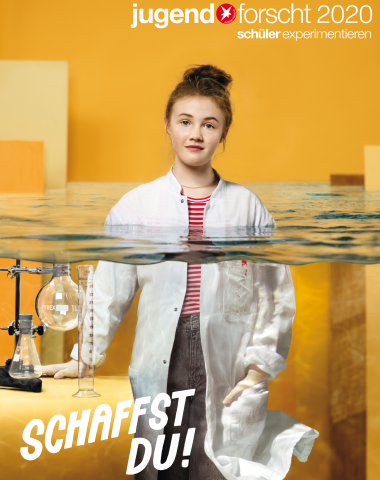 Jugend forscht 2020 in review
We Promote Talent!
Projects are conducted in the following subject areas: work environment, biology, chemistry, geo- and space sciences, mathematics/IT, physics and technology. All children and young adults ages 9 - 21 can take part in the "Jugend forscht" contest. Those interested in submitting a research project or experiment can register on the "Jugend forscht" website either as an individual or with a group of up to three people.
All further and new information about the competition 2022 will follow shortly here.
---
Jugend forscht 2019 in review
"We are looking for the scientists of tomorrow!" Henri Nannen, the editor-in-chief of stern magazine, coined this slogan when launching the first Jugend forscht contest in 1965. This is as true today as it was then. In science, technology and engineering there is an unbroken demand for highly qualified people. As a result of declining student numbers in these subjects and due to an increasing global competition, the current lack of specialists is going to get even worse. Jugend forscht believes that the education of young people and the development of their careers in science, technology, engineering and mathematics is a crucial task for our society. This is how we will be able to meet the challenges of the future. Jugend forscht makes an important contribution to identifying and supporting the highly gifted people we need in business and academia.
---
Jugend forscht 2018 in review
"Jugend forscht" is Germany's most renowned youth contest and it has been held since 1965. "Schüler experimentieren" is the junior category of the "Jugend forscht" contest. In Donzdorf, work was presented in the fields of biology, physics, work environment, chemistry, technology, mathematics/IT and geo- and space sciences. Among the 69 participants in total, 30 were girls.
In 2018, the panel of experts at the Staufen/Alb regional "Jugend forscht" contest assessed a total of 38 projects in seven subject areas.
---
Jugend forscht 2017 in review
The city of Donzdorf organized the Staufen/Alb regional contest for the first time as a partner organization. This was one of a total of 11 regional "Jugend forscht" youth science contests in Baden-Württemberg.
A total of 69 children and youths presented their projects in 7 different fields under the motto "The future—I'm shaping it" on February 17 and 18, 2017.
Among the projects presented to a panel of experts and to the public, 9 came from the "Schüler experimentieren" category (up to age 14) and 22 from the "Jugend forscht" category (ages 15 to 21).